Here's your weekly digest of the craziest and funniest stories from around the world
1) Unbeelievable! Man covered in 1.1 million bees sets new world record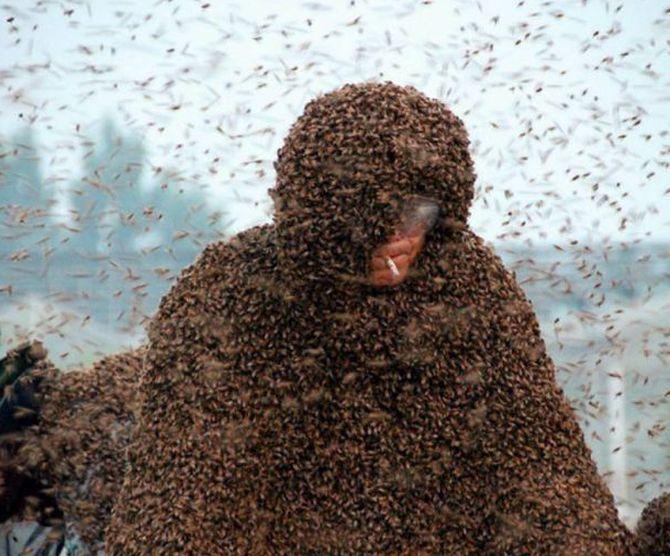 This Chinese beekeeper isn't going to let the small matter of 1.1 million bees stop him from smoking a cigarette. Gao Bingguo, 55, set a new Guinness World Record after being covered in a massive 17st of the insects on Monday. He suffered 2,000 stings in the attempt - but managed to puff on a cigarette regardless. Gao is no stranger to bees, having kept them for over 35 years.
---
2) Lawyer offers 50 cows, 70 sheep and 30 goats to marry Obama's daughter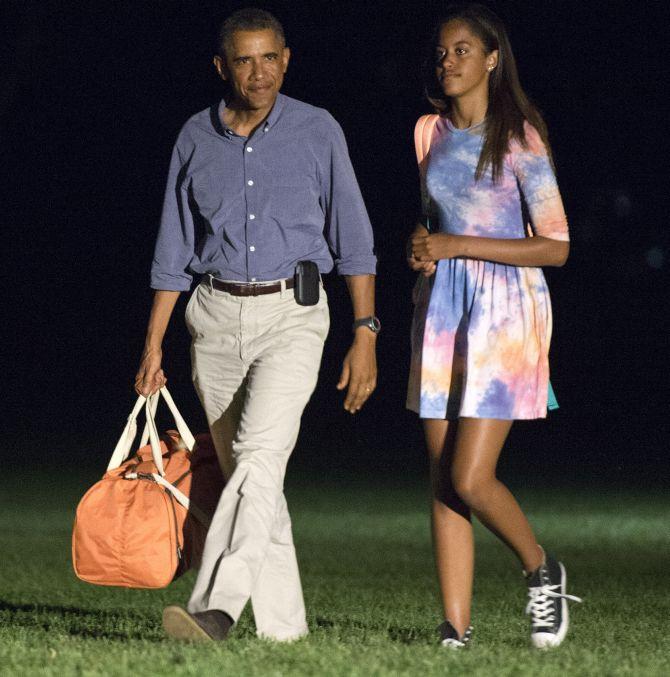 A lawyer in Kenya has offered US President Obama an assortment of cows, sheep and goats in return for his teenage daughter's hand in marriage. Felix Kiprono said he "got interested" in 16-year-old Malia in 2008 and has been saving himself for her ever since. The lawyer, whose age has not been revealed, said he would give the President of the United States 50 cows, 70 sheep and 30 goats if he let the two tie the knot.
Kiprono said: "I have shared this with my family and they are willing to help me raise the bride price."
---
3) New hoodie lets you carry your pet around like a kangaroo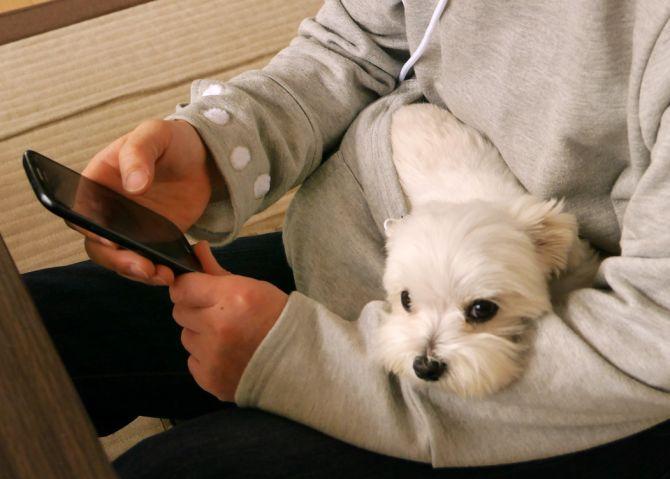 Pet owners will do just about anything to get close to their beloved animals. But just when you think you've seen the lot, this hoodie lets you carry around your furry friend as though you're a kangaroo. The 'Mewgaroo' is a sweatshirt with a large pouch in the front, large enough to carry a cat or a small dog. It's lined with thick fur to keep them warm and safe -- just like a Joey kangaroo.
---
4) Duck lane opens in London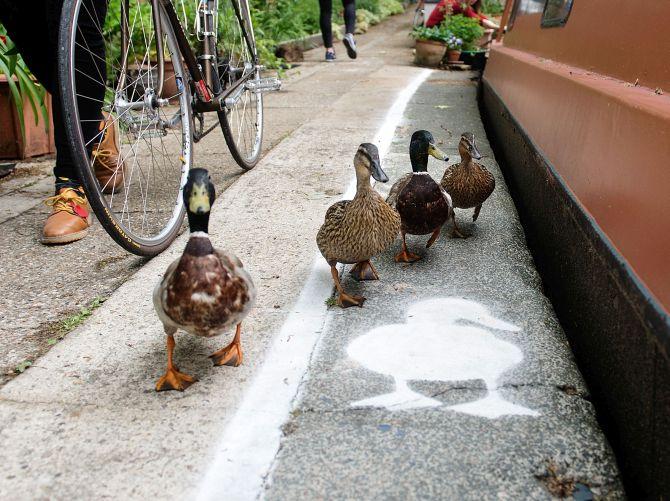 Only ducks can use this lane. So don't make the mistake of stepping on to the path or you could find yourself at the end of an angry quack. The temporary lanes have been painted on busy towpaths in London, Birmingham and Manchester to highlight the narrowness of the space that is shared by a range of people and wildlife.
---

5) Willy marry me Wonka? Bride walks down the aisle in dress made out of chocolate wrappers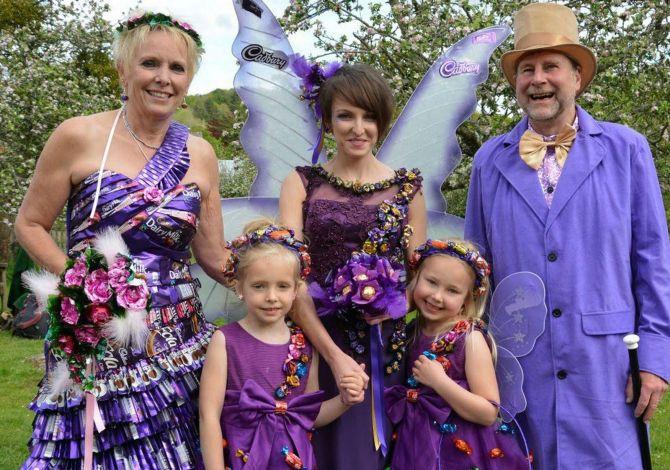 Sweet-toothed Wendy Heagarty looked a treat on her wedding day -- in a dress made from hundreds of empty chocolate wrappers. The self-confessed chocoholic wanted a Willy Wonka-themed wedding when she tied the knot with groom Ian. She spent five months gorging on snacks -- eating almost her own weight -- to collect enough wrappers for her own dress, plus trimmings for her four bridesmaids. And incredibly she managed to keep her weight.
---
6) At this Chinese restaurant, shorter your skirt, bigger the discount
A Chinese restaurant is measuring women upon arrival in order to hand out discounts for those dining in the shortest skirts. Yang Jia Hot Pot Restaurant in Jinan, east China, is offering discounts for customers wearing the shortest miniskirts, with employees measuring how much skin is shown from the knee upwards.
The promotion held last weekend saw dozens of women lining up to be measured in the hope of receiving 20 per cent off their bill if their skirt was 3 inches above the knee. If it was 13 inches above the knee, diners had 90 per cent knocked off their bill.
---
7) Elephant snatches man's camera, takes amazing 'elphie'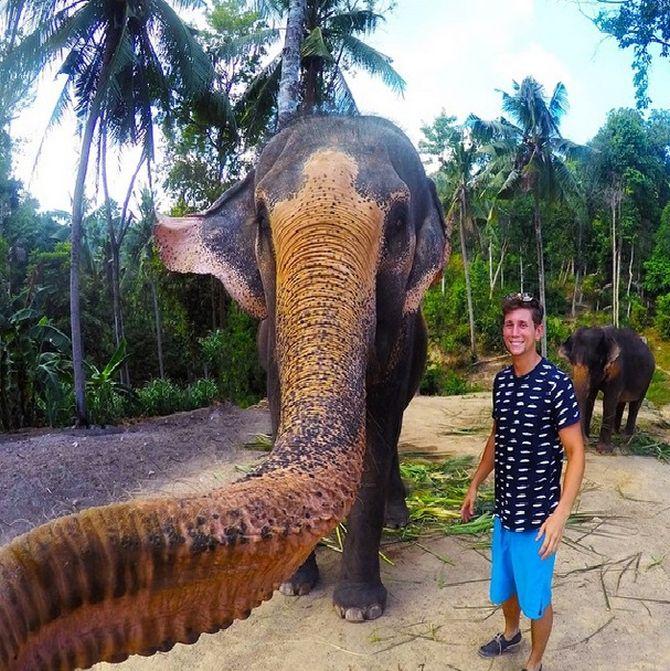 Plenty of tourists have snapped a selfie of themselves posing with an elephant during their travels. Even US Secretary of State John Kerry has done it. But how many have had their photo taken by the elephant?
Christian LeBlanc, a 22-year-old Canadian, found himself the subject of an extraordinary "elphie" on a Thai island earlier this year.
The elephant LeBlanc was feeding decided what was on offer wasn't enough and grabbed LeBlanc's GoPro by the mount took a selfie of a lifetime.
---
8) An Adolf Hitler ice cream cone is now on sale in India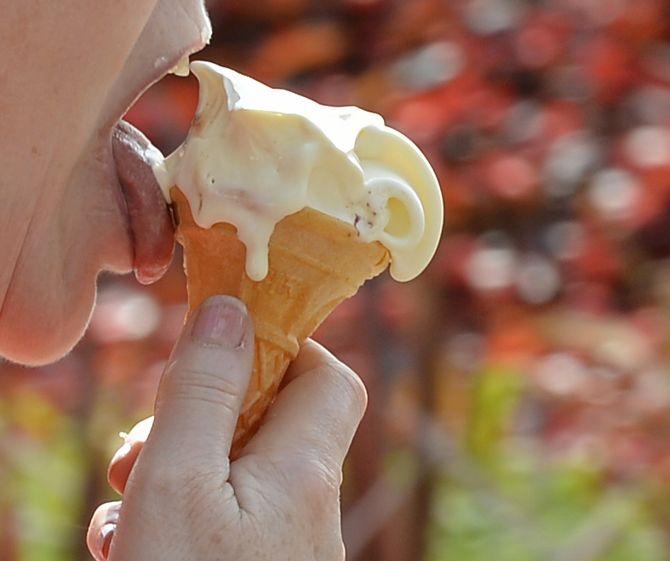 Even for the most dedicated of ice cream lovers this sweet treat may prove a little hard to swallow. Unbelievably a brand of ice cream cone is readily available in India which is named after Hitler. It's difficult to fathom what the Nazi leader may have in common with the crunchy snack, but Hitler's name is splashed across boxes of the tasteless delicacy which is hawked across the country.
---
9) Leading US university offers course on selfies
Students at a top California university can now take a course devoted to selfies.
Officially, the first-year class is called Writing and Critical Reasoning: Identity and Diversity, although on the University of Southern California campus it is better known as #SelfieClass. The course explores how people construct "an image of their identity -- their gender, their ethnicity, their sexuality, their socioeconomic status" in selfies, says associate professor Mark Marino. Students have to examine both their own selfies and those taken by celebrities - an early exercise asks them to consider what can be gleaned from a photo Beyonce took of her own feet.
---
10) Trendy Houston area home on sale for a dollar and a few words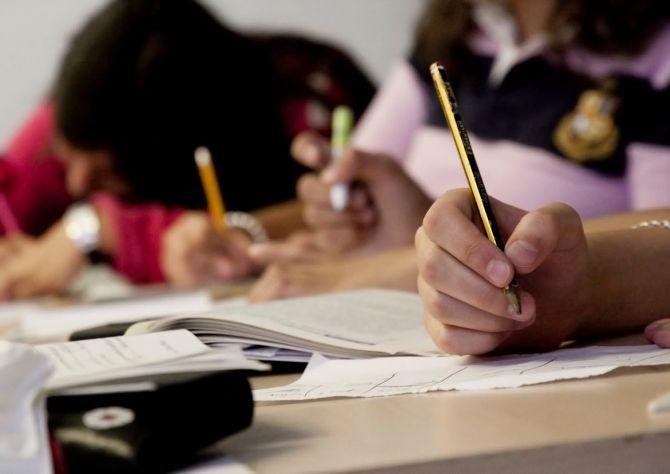 A home in a popular Houston neighbourhood valued at nearly $400,000 has been put on the block for the sale price of $1 and one compelling essay. Husband and wife Michael and Stephanie Wachs are moving to a home closer to their daughter's preschool and want the owners of their old home to move in without being burdened by a mortgage. They are asking hopeful buyers to submit a 200-word essay along with a $150 offer fee to bid on their 1,056-square-foot (98-square-metre), two-bedroom cottage.