Here's this week's collection of wacky and funny stories from around the world.
1) College students break world record for largest pillow fight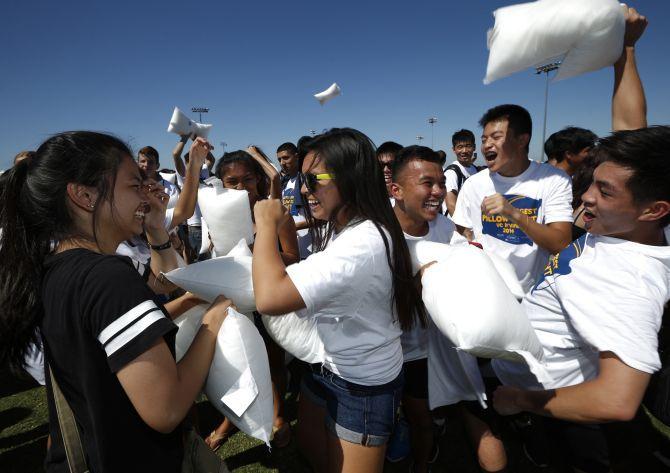 UC Irvine students, mostly freshman and transfers, joined together to try to break the Guinness World Record for the world's largest pillow fight. An astonishing 4,200 students succeeded in breaking the previous record — 3,813 people — held by Swedish DJ duo Dada Life, who instigated the pillow fight at a concert in Chicago.
---
2) Chinese model goes on nude protest for not getting 'free boob job'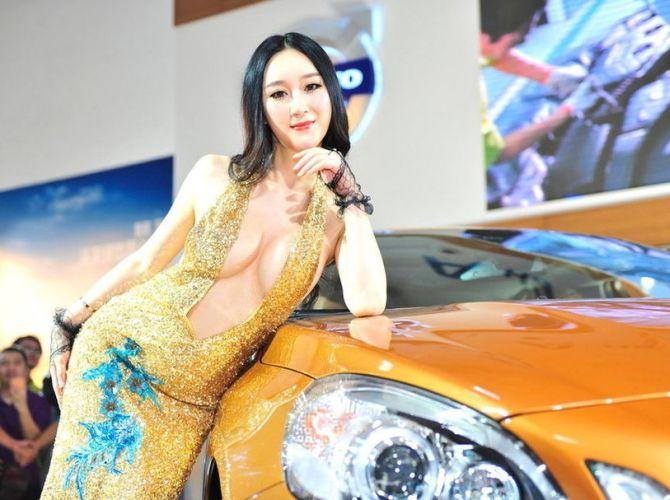 A Chinese model recently stripped naked after she got to know that she was not entitled to a free boob job. Wu Xi'er, one of China's most-photographed models protested nakedly at the Shisanba Clinic in Beijing. Xi'er, who was only wearing a pair of flesh colored briefs, said that she was not being boastful but her boobs were probably the most seen, most famous breasts in the whole of China and it was "insulting". Xi'er had offered to be the hospital's official boob ambassador.
---
3) Rock, paper, scissor championships are not for the faint handed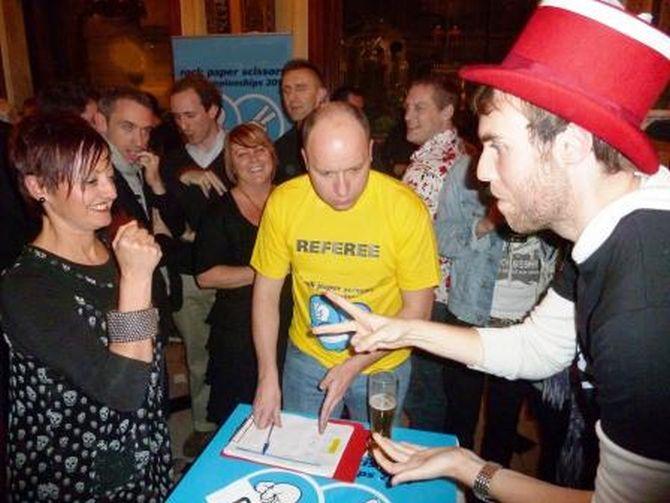 For those who fancy themselves as a rock, paper, scissor expert, London is the place to be as they are organizing the official championships this weekend. Apparently it's not all just about luck and there's an art to winning the game that involves throwing up hand signals. If you do you have a gift in making shapes you can enter the eighth UK Rock Paper Scissor Championships, in Bank.
---
4) World's most expensive burger with gold leaf and caviar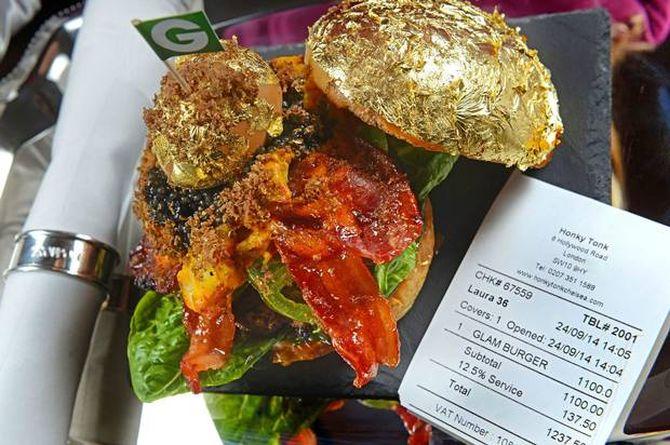 A restaurant in Chelsea has found a not-so-novel way to celebrate excess: by claiming to have created the world's most expensive burger, embellished with gold leaf, lobster and caviar. Priced at £1,100 (or £1237.50 with service), the burger took three weeks to develop and has been verified as the highest priced in the world, with each of the 14 listed ingredients - including salt and mayonnaise - costing around £78.50 each.
Honky Tonk restaurant in Chelsea, west London, added a multitude of expensive ingredients to the dish, christened 'The Glamburger', in order to justify the eye-watering price. The meat itself consists of 220g of Kobe wagyu beef, minced with 60g of New Zealand venison to "balance the fat content". At the centre is a black truffle Brie that will create a "liquid pocket" once it has been cooked. If that doesn't sound like enough, the patty has been seasoned with Himalayan salt, served with a Canadian lobster poached in Iranian saffron. Topping the meat is more meat: bacon coated with maple syrup, along with beluga caviar and a hickory smoked duck egg covered in gold leaf. The bun is seasoned with Japanese matcha, which is a kind of powdered green tea, and mayonnaise, and then also coated in gold leaf. The garnish is a mango and champagne jus with grated white truffle.
---
5) Meet Garfi, the new Grumpy Cat
Move over, Grumpy Cat: There's an even moodier-looking feline that has captured the world's attention with his permanently angry expression. Garfi, a Persian cat that resides in Turkey, has garnered a large following due to his menacing mug. Garfi's perpetually furious expression can be seen in more than 100 photos taken by his owner, Hulya Ozkok. Ozkok devoted a Flickr album to her unusual pet at the suggestion of her son, and it has been viewed more than 17,000 times.
---
6) Meet the Italian man who is the world's best 'cow-milker'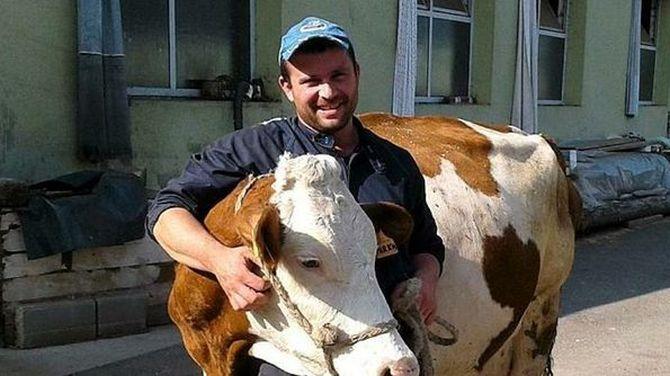 An Italian man has recently been named the "world's best cow-milker," after he won the world cow-milking championship in northern Italy. Gianmario Ghirardi won the title after milking 8.7 litres of milk from his cow in two minutes.
The milker from Malonno fended off thousands of rivals to win the championship in Lenna, close to the Swiss border. In collecting his trophy the 30-year-old credited the victory to Mirka, the winning cow he has owned for seven years.
Ghirardi beat off competition from local Nicolo Quarteroni, who came in second place with 8.05 litres.
---
7) The world's first levitating cocktail - that drinkers lick out of the air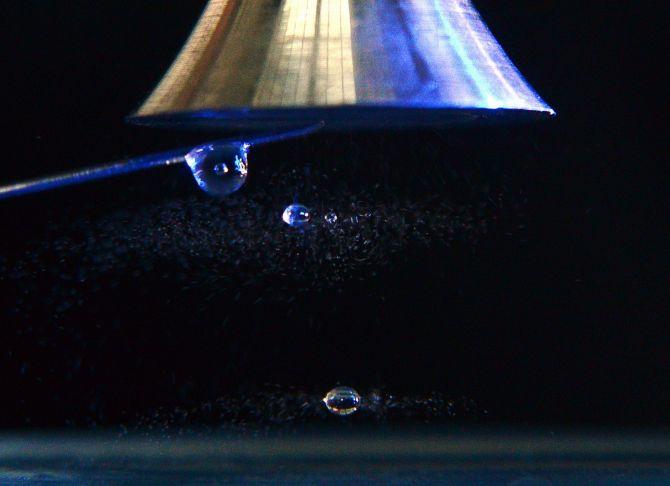 A British inventor has created the world's first levitating cocktail - which has to be licked out of the air. Tiny droplets of potent alcohol are suspended in mid-air by powerful supersonic sound waves which create a levitating field. The Levitron machine is the brainchild of Charlie Francis, a real-life Willie Wonka, whose firm specialises in making wacky desserts. He believes the floating beads of alcohol are so strong it would take just four droplets to get drunk. Charlie said: "It's a pretty powerful machine. "So far we've made a levitating gin and tonic at 70 per cent proof and a levitating Bloody Mary cocktail using Vodka at 160 per cent proof which will blow your socks off.
---
8) British gardener grows Guinness World Record breaking onion
Tony Glover has smashed the existing record for his whopping vegetable, which weighs an eye-watering 18lbs and 11oz and measures 32 inches around its widest part. When recipes call for a large onion, on average they mean around 12 ounces. But Mr Glover's whopper was almost 25 times that size. If he wanted to, the amateur gardener from Small Heath in Moira, south Derbyshire, could use his enormous haul to cater for a huge number of people. That one onion is large enough to make 250 onion bhajees, French onion soup for 36 people or 50 portions of onion rings!
---
9) On Putin's birthday, Russian president depicted as Hercules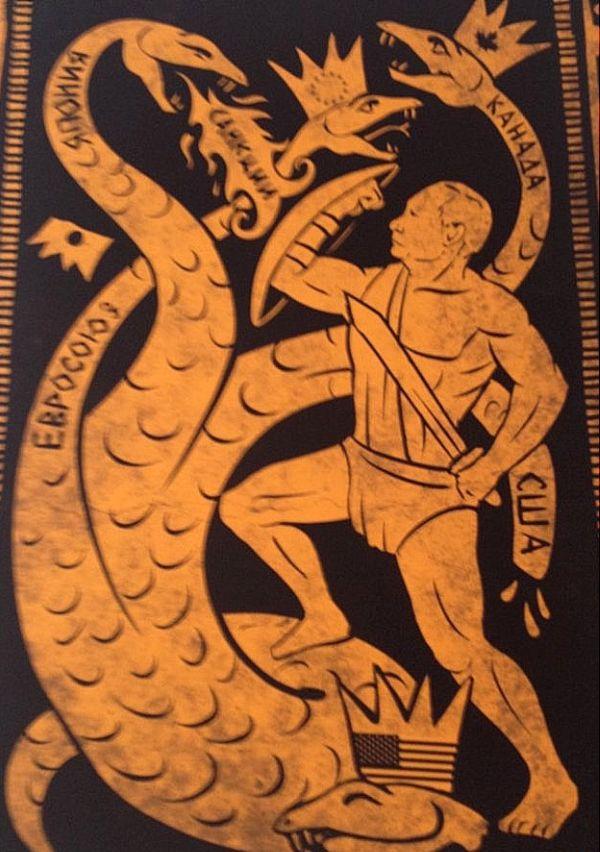 Vladimir Putin may not be a god, but he is a superhero. That was the message at an exhibition of paintings depicting the Russian president as Hercules, held at a small Moscow gallery space. Opened for one night only in honour of Putin's 62nd birthday on Tuesday, the exhibit reimagined his achievements as the 12 Labours of Hercules, beginning with the slaying of the Nemean lion – in this case, Putin strangling a bearded suicide bomber representing terrorism – and ending with the capture of the three-headed dog Cerberus, which symbolised the struggle with the United States and its "unipolar world". The most impressive painting, created in the gold-on-black style of ancient Greek pottery decorations, showed a muscular Putin lifting his shield against the poisonous breath of the Lernaean Hydra – or western sanctions against Russia.