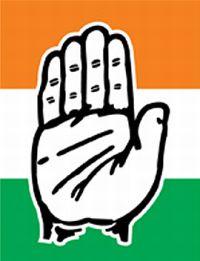 The electoral battle is far from over, but Congress leaders in Karnataka are already fighting amongst themselves over the issue of chief ministership. Vicky Nanjappa reports
The Congress, which is hoping to form the next government in Karnataka, is battling factionalism.
The party is divided into two camps; one led by Siddaramaiah and the other by G Parameshwar.
Siddaramaiah is an aspirant for the post of the chief minister while Parameshwar is chief of the Karnataka Pradesh Congress Committee.

Both leaders are aspiring to be chief minister and want a lion's share in the selection of candidates.

Both leaders feel that they need more candidates of their choice, as they would have the support of the legislators when a CM is being chosen. They are hopeful that the high command would select a CM who has more support among the legislators.
Some of the aspirants told rediff.com that the spat is getting ugly and this war within the party is taking forever to decide on the candidates.

Parties such as the Karnataka Janata Paksha and the Janata Dal-Secular have already announced their list of candidates and campaigning by few of them has already begun. We are finding it difficult to start work as we remain unsure of who the candidates would be, they said.
The job for the AICC screening committee headed by former Goa chief minister Luizinho Faleiro is becoming extremely difficult.

Every day the committee receives two sets of recommendations by the rival factions.

The high command, on the other hand, cannot ignore both factions as it believes that there needs to be unity in the party if they want to win the elections.
The Congress has been careful not to name a leader as of now, as it would lead to factionalism. However, the party's problem has already begun in the candidate selection process.

Most Congress leaders feel that this is their best chance to win the election.

Around two years back the party was down and out and showed no signs of resurrection until the BJP decided to put its own house in disorder. The Congress gained a lot of out of this.


Although Siddaramaiah who is an ex-JD-S leader is still considered to be a new entrant into the Congress, the party still cannot ignore him as he is the biggest and probably the only crowd-puller for the party in the state.

Parameshwar, on the other hand, is not used to the dust and heat politics, but holds a considerable amount of control over many leaders due to his seniority in the party.


The party is expected to finalise its list of candidates by the first week of April.

Sources in the party say that the list of 100 candidates has been finalised based on their performances during the previous elections. However, the contention is regarding the other 124 candidates is taking a lot of time, Congress sources also pointed out.