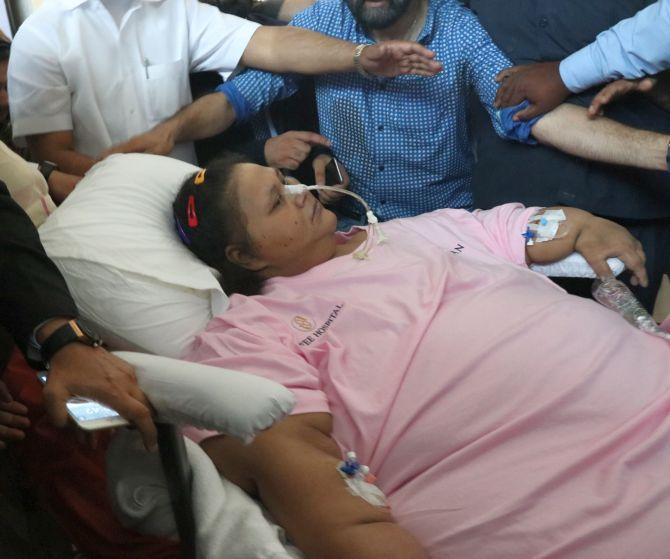 Eman Abdul Atti, a 37-year-old Egyptian national once believed to be the 'world's heaviest woman', died on Monday in a United Arab Emirates hospital due to complications from her weight after a long treatment journey between Egypt, India and the Gulf emirate.
She died at the Burjeel Hospital in Abu Dhabi due to complications from the underlying comorbid conditions, including heart disease and kidney dysfunction, the hospital said a statement.
In medicine, comorbidity is the presence of one or more additional diseases or disorders co-occurring with a primary disease or disorder.
Eman weighed roughly 500 kilogram when she arrived in India in February, but had lost an astonishing 323 kilogram after undergoing a series of medical procedures.
Her death comes few days after she celebrated her 37th birthday on September 9, surrounded by family and friends.
Eman's sister Shaimaa Selim had posted on her Facebook page on September 11 a photo of her sister celebrating birthday at the hospital.
Commenting on her sister's death, Shaimaa said Eman's death is God's will and "we accept it", according to Alittihad, the Emirati newspaper.
Shaimaa added that Eman's body will be flown to Egypt on Tuesday to be buried in Alexandria.
Eman was admitted to the Burjeel hospital on May 4 after arriving in the UAE from India. She had been under the supervision of over 20 doctors from different specialities, who were managing her medical condition.
Initially, she underwent treatment at the Saifee Hospital in Mumbai for severe obesity.
She underwent bariatric surgery in March in India in which doctors reduced the size of her stomach by two-thirds, so as to reduce her food intake. Her genetic tests had showed that she had a rare gene mutation that cannot be cured through surgery.
Bariatric surgery, also known as weight loss surgery, is used as a last resort to treat people who are dangerously obese -- having a body mass index of 40 or above, or 35 plus other obesity-related health conditions.
Her treatment in India was abruptly stopped after her sister Shaimaa, on social media, alleged that Eman was not receiving proper treatment in India.
She had alleged that the doctors at Saifee, made "false claims" about Eman's recovery and weight loss.
Eman, a resident of Alexandria, had not stepped out of her house for more than two decades due to her obese condition followed by a stroke that left her paralysed on one side a year ago.
Her problems appeared at birth when she was born overweight and continued to rapidly grow, struggling to walk even as a young girl.
She never attended school because of her size, and doctors believe her condition is caused by a fluid retention problem, meaning that large amounts of extra water are being retained in her body.
Egyptian people were shocked when the media reported her death as her health seemed to be improving in the last few weeks.
Dr Yassin Al Shahat, chief medical officer at Burjeel Hospital, had said in June that she was able to sit independently for long periods on a specially tailored wheelchair. He also said that she was able to speak full sentences and was communicating better with her surroundings.