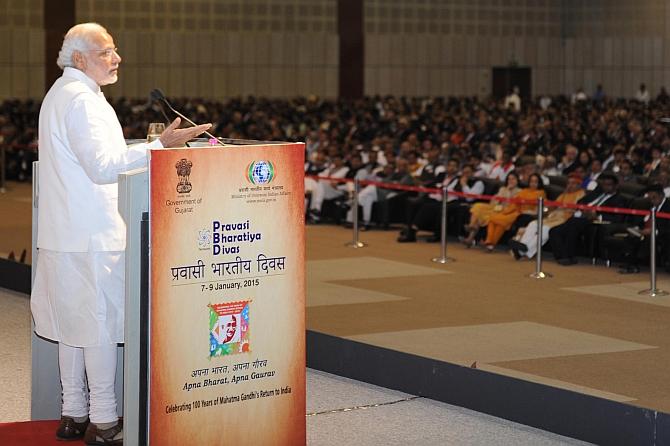 Image: Image: Prime Minister Narendra Modi delivers the inaugural address to the Indian Diaspora at the Pravasi Bharatiya Divas, in Gandhinagar, Gujarat. Photograph: PIB

Indian diaspora is a "great capital" for the country which needs to be nurtured, Prime Minister Narendra Modi said on Thursday as he sought its cooperation in transforming India that awaits them with opportunities.
Reaching out to the expatriates, he recalled how once adversity, courage and urge to explore new avenues for livelihood motivated their ancestors to leave Indian shores but now the country had "risen with great strength" where "great opportunities" awaited them.
"My conviction is that Indian diaspora is a great capital for us in the global context. The more we nurture it, the more strong will be our presence globally," Modi said after formally inaugurating the 13th Pravasi Bhartiya Divas at Mahatma Mandir which marked the centenary of Mahatma Gandhi's return to the country from South Africa.
The prime minister said the world was eager to engage with India with "love".
"After taking up my new responsibility, I have had the opportunity to meet the Heads of State of over 50 countries. We spoke with an open heart. I feel the poorest of the poor and the richest of the rich nations are looking up to India. Such occasions are rare.
"A measure of love the world has for India was reflected when the United Nations accepted my proposal to observe the World Yoga Day. 177 of the 193-member UN co-sponsored that resolution, over 40 of them Islamic nations, and it was passed in just 100 days, a record of sorts when such resolutions normally take two years to pass," Modi said.
The prime minister said the love being shown by the world was not because of the affluence of the Indian diaspora in the countries they have adopted but because of their "value system and cultural inheritance".
He, however, said it was a challenge to prove equal to the expectations the global community has from India.
"Now it is our responsibility to prove equal to the expectations of the world with confidence which Mahatma Gandhi showed even while sweeping the streets, popularising Khadi and doing other services to the nation as he led the freedom movement," Modi said.
"There used to be a time when you left your beloved country to explore opportunities in different parts of the world...Now I want to assure you that lot many possibilities are awaiting you as time is changing rapidly and India has risen with new strength," Modi told around 4,000 delegates at the event.
Referring to his 'Clean India' campaign, the prime minister brought up the issue of cleaning the Ganga, another of his pet projects, and urged the Indian diaspora to get involved in it.
"Cleaning Mother Ganga is also close to your heart, I know. The mission to clean Ganga is of great religious and environmental value and is also key to economic development of 40 per cent of India's population.
"I want you to get involved in this mission which will improve the environment and spur rural development in vast areas of Uttar Pradesh, Bihar, West Bengal...It will also help to link you to thousands of years of cultural journey of Mother Ganga," he said.
Noting that some people felt he was engaging more with the diaspora to fulfil some "expectations", he said, "It is not so. Meeting our own people gives us strength, sharing our pain and pleasure gives us energy."
Modi said contributions by Indian expatriates need not always be in dollars and pound sterling.
He recalled how a Muslim girl of Indian origin, born in an African nation and settled in Canada whose parents had never seen India, stayed in Kutch for months to help the 2001 earthquake victims.
"Whenever there is a painful occurrence, a tragedy, all of you experience the same pain as we do here. When Kutch was hit by a devastating earthquake, there was no Indian living abroad who did not try to wipe the tears of the victims," he said.
"Today, people in Guyana get drenched in colours on Holi the way we do, their 'diyas' continue to inspire us on Diwali.
The Ganga Sagar lake in Mauritius, filled with water from Mother Ganga, continues to inspire and unite all people of Indian origin there," he said.
Welcoming the diaspora to contribute to India's transformation, Modi said he had fulfilled the promise he made in his address at Madison Square Garden in New York to merge the Persons of Indian Origin and Overseas Citizens of India schemes.
The government had on Tuesday promulgated an ordinance to club the two schemes into one which will benefit PIOs and give them benefits like life-long visa and exemption from appearing at police stations.
"Now you will no longer have to run to embassies and present yourself before police every week. Today, the authorities know how we value your pride," he said.
He said the Pravasi Bhartiya Kendra in New Delhi will also become operational soon.
Modi repeatedly invoked Mahatma Gandhi in his speech, saying his thoughts, particularly on humanism, had the power to resolve complex problems facing the world.
Pravasi Bhartiya Divas, the Centre's outreach programme for overseas Indians, was launched in 2003 by the Atal Bihari Vajpayee government to mark the return of Mahatma Gandhi to India from South Africa. It has been held every year since.
Also read:

Pravasi Special: Bharat Mata and her children

Pravasi Special: 'India has stayed in my blood'

Pravasi Special: The India I want to see