World leaders voiced solidarity with the United Kingdom after the deadly attack near the Houses of Parliament.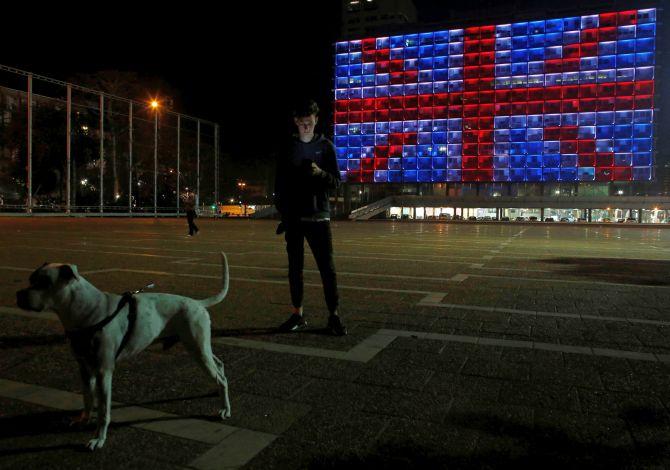 IMAGE: The building of the city hall in Tel Aviv's Rabin square in Israel is illuminated in solidarity with Britain for the attack on Westminster Bridge in London. Photograph: Nir Elias/Reuters
French President Francois Hollande expressed his "solidarity" with the British people, saying "terrorism concerns us all and France knows how the British people are suffering today".
"I want to say for Germany and its citizens: we stand firmly and resolutely by Great Britain's side in the fight against all forms of terrorism," said Germany's Chancellor Angela Merkel.
US President Donald Trump spoke by phone to British Prime Minister Theresa May to offer his condolences and to praise the effective response of UK security services.
Trump pledged the "full co-operation and support" of the American government in bringing those responsible for the attack to justice, the White House said in a statement.
Saying his thoughts were "with London tonight", European Commission President Jean-Claude Juncker recalled it was the first anniversary of the Brussels attacks. "Today marks one year since the people of Brussels and Belgium suffered a similar pain and felt the support of your sympathy and solidarity," he said in a statement.
"At this emotional time, we at the European Commission can only send that sympathy back twofold."
Canadian Prime Minister Justin Trudeau said in a statement that it was an "attack on democracies around the world" and Canadians stood "united with the British people in the fight against terrorism".
Australian Prime Minister Malcolm Turnbull strongly condemned the UK Parliament terror attack describing it as "an attack on parliaments, freedom and democracy everywhere".
"Australia's heartfelt sympathy and resolute solidarity is with the people of the UK with whom we stand today as we always have in freedoms cause. Staunch allies in the war against terrorism," Turnbull said in a statement.
"The attack on the British Parliament is an attack on parliaments, freedom and democracy everywhere," he said adding that Westminster is rightly known as the mother of parliaments.
"We send our condolences, especially to the families of the victims, those injured, including a police officer murdered by the terrorist as he attempted to enter the Houses of Parliament," Turnbull said.
Prime Minister Narendra Modi condoled the victims of the London terror attacks. Taking to Twitter, the PM wrote, "Deeply saddened by the terror attack in London. Our thoughts & prayers are with the victims and their families. At this difficult moment, India stands with UK in the fight against terrorism."