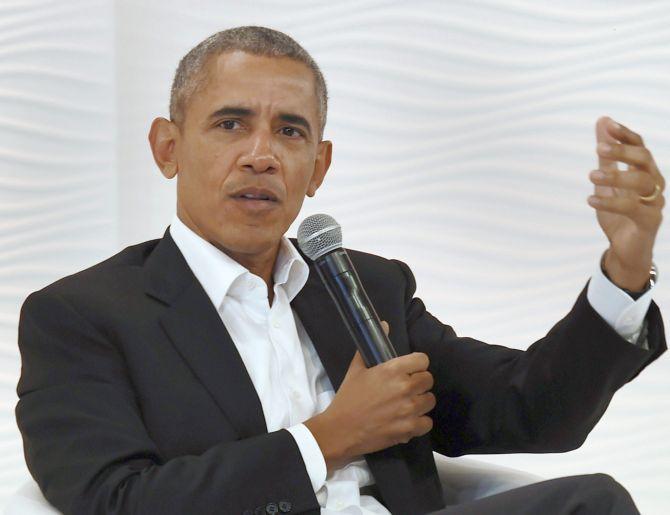 Former United States president Barack Obama said on Friday that the India-US relationship could be a "defining partnership of the 21st century" and that charting the course for the future will also depend on the young people of the two countries.
At a town hall organised by the Obama Foundation where he addressed young leaders from across India, he said the single most important thing he wanted to focus for the rest of his career was training the next generation of leadership not only in the US but across the world.
With its largest young population in the world, India holds an important place for him, he said.
Both India and the US are hugely diverse and have many common shared values, he said.
He believed that the relationship between the two countries can be a "defining partnership of the 21st century", he said.
"I also believe that charting the course for that future is going to depend on young people," he said.
To a question from a transgender woman who rued discriminatory laws in India, Obama said he would not get into specifics of local laws but advised her to find her voice and tell her stories so that the perception that she was different was broken down.
When he was in college in the early 80s, Obama said, many states in the US had discriminatory laws against lesbian and gay communities. Now even many conservatives acknowledge that people should not be discriminated against due to their sexual orientation, he said.
He advised young leaders to work to make things better and embrace incremental changes as they will never get 100 per cent of what they want.
As the US president, he said, he was often attacked more by the progressive people who had voted for him than the other side on some issues, but he would always tell his staff that their goal was to make things better.
He advised them to be not only online activists but work among the people and listen to them as well.
Image: At a town hall organised by the Obama Foundation, Obama said the single most important thing he wanted to focus for the rest of his career was training the next generation of leadership not only in the US but across the world. Photograph: Kamal Singh/PTI Photo