Work is still continuing on the issue of simultaneous polls and no timeline has been given for finalising a report on it, Law Commission Chairman Justice Ritu Raj Awasthi said on Wednesday.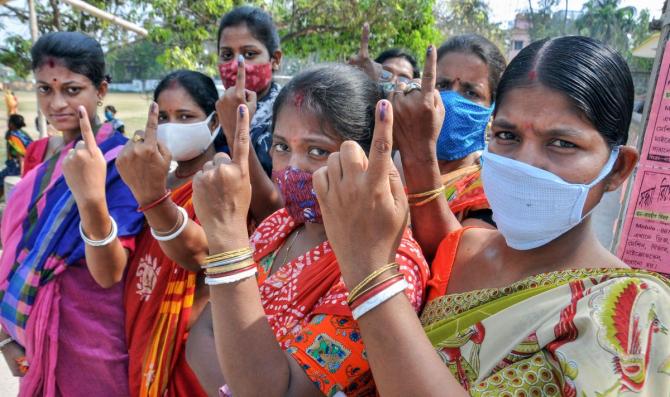 He also said the reports on the Protection of Children from Sexual Offences (POCSO) Act and online FIRs have been finalised and sent to the law ministry.
"Still some work is going on on simultaneous elections. We have not finalised the report. There is no timeline for finalising it," Justice (retired) Awasthi, who was the chief justice of the Karnataka High Court, told reporters in New Delhi.
According to the procedure, all reports of the law panel are submitted to the Union law ministry, which then forwards those to the ministries concerned.
The issue of simultaneous polls is pending with the law panel for years.
The previous Law Commission had suggested three options to hold simultaneous Lok Sabha and Assembly polls, but said several points remained to be addressed.
In a public appeal issued along with its draft report on holding the mammoth exercise, it had said though many impediments in achieving synchronisation of the Lok Sabha and Assembly elections have been addressed, some of the points would "still remain to be pondered upon".
It had asked all the stakeholders to suggest whether holding simultaneous elections, by any means, would tinker with democracy, the basic structure of the Constitution or the federal polity of the country.
It had said various committees and commissions have made suggestions to deal with the situation of a hung Parliament or Assembly, where no political party has the majority to form a government.
These panels have proposed that the prime minister or a chief minister may be appointed or selected in the manner in which a speaker of the House is elected.
Now, the present law panel has started working further on the subject.
The Law Commission's report on the POCSO Act deals with the issue of age of consent.
Over the years, the POCSO Act, which defines a child as a person aged below 18 years, has often come in conflict with the role of consent in determining the nature of relationships between adolescents.
Last year, the Delhi high court said the intention behind the Act was to protect children from sexual exploitation and that it was never meant to criminalise consensual romantic relationships between young adults.
The court made the observation while granting bail to a boy who married a 17-year-old girl and was apprehended under the law that was enacted in 2012.
The Law Commission, which is constituted every three years, advises the government on complex legal issues.