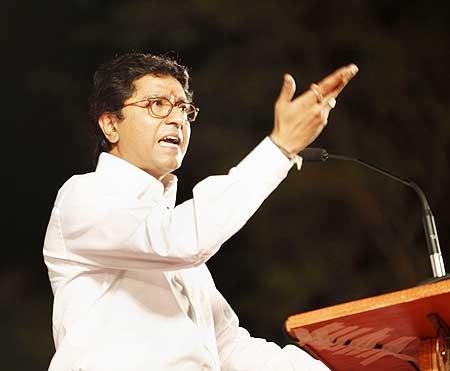 Maharashtra Navnirman Sena chief Raj Thackeray on Saturday warned his party cadres not to indulge in indiscipline or face his wrath.
He cautioned them not to put up banners on the leaders' birthdays and advised them not to chase vote politics.
Thackeray was speaking in Pune after deliberating with the party workers for three days in view of the two subsequent debacles of his party in Lok Sabha and assembly elections.
The meet was attended by the party workers, functionaries and corporators.

He said, "Don't chase the votes for the sake of votes but connect with people as one among them. Think yourself as not party functionary but as common person. It is not that people have deserted us but you have failed to connect with the people. Now is the time to do constructive work."
Thackeray kept himself off from criticizing any party while referring to the party's poor performance in recent elections but took potshots on Nationalist Congress Party saying that the leaders on NCP's posters are like ten-faced Ravan.
"Anybody who puts the hoardings for wishing on birthdays will face axe the same day and he will not be in our party," he said.
He said, "I have analyzed the reasons for the outcome and I will reinvigorate the party in Pune as well as in other districts. However, don't indulge in indiscipline or infighting. Otherwise, those people will face the action. The party has a certain frame and none of you should cross that frame."