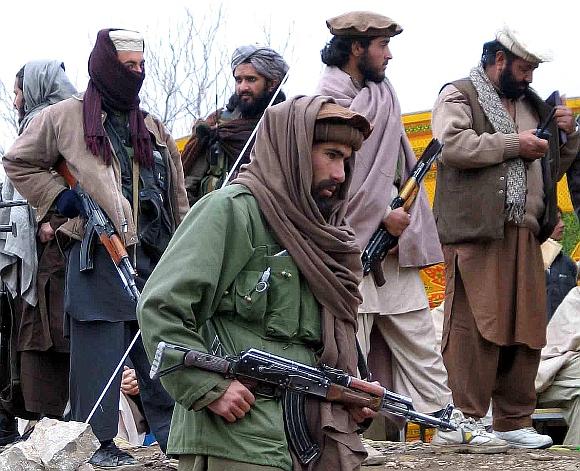 Afghanistan will never allow its territory to be used for any anti-India activity, Afghan ambassador Shaida Mohammad Abdali said here and dismissed apprehensions that withdrawal of NATO forces may allow the Taliban to make a comeback.

"We can assure that we would never allow Afghanistan to go back to the dark era of Taliban or use of its territory for any kind of anti-India activity. India is a dear friend of Afghanistan. We have paid a heavy price to make sure that Afghanistan is not a home to terrorists and anti-India elements," Abdali told PTI in an interview in Kolkata.

"We have fought against this menace and it will not return. No anti-India activity will again come back to our country. Afghanistan will not revert to it. It is a new Afghanistan. The Taliban has destroyed our institutions and we have done very hard work in last 13-14 years to rebuild our economy, our institutions," Adbali said.

The NATO closed its facilities in Afghanistan and handed over charge to Afghan military at the end of December, 2014, 13 years after the toppling of the Taliban regime in that country. The NATO-led force is now shifting to the reduced role of providing support as Afghanistan's newly-trained army and police take over the fight against Taliban.

Abdali's statement comes in the backdrop of apprehensions in India that there could be security implications of the withdrawal of NATO forces from Afghanistan for South Asia and other countries.

Union Home Minister Rajnath Singh had recently said that the withdrawal of NATO forces will not only have an impact on the region but also on the US and other countries.

When asked about fears that Afghanistan might again fall prey to terrorist elements, Abdali said that the perception that exists that the withdrawal of NATO forces will lead to trouble in Afghanistan doesn't reflect the ground realities.

"The perception that exists doesn't reflect the ground realities. The perception is totally baseless. The troops withdrawal from Afghanistan has been planned and it is based on Afghanistan's capacity. We have signed strategic agreements with US and many other countries including India. Those partnerships are aimed at commitment to Afghanistan for at least next 10 years. Afghanistan is in safe hands, we have
our own national army, police," Abdali said.
Abdali, who has earlier worked as deputy National Security Advisor and Special Assistant to the former Afghan President Hamid Karzai, was asked about allegations from Pakistan that India is trying to play a "big-brother" in the region.
"India is a major economic power. It is being acknowledged by everyone in the region. Prime Minister Narendra Modi's initiative to bring all SARRC neighbours together was a great initiative. We hope that all leaders of South Asia, in particular the SARRC regions, will embrace each other so that we all develop and prosper," he replied.
"I can't comment on the allegations of Pakistan but India is a economic superpower. We as Afghanistan would like to have good relations with all our neighbours," he added.
Asked about the instability in Af-Pak region and how would it effect affect the stability in the region, Abdali said, "Peace and stability in Afghanistan means peace and stability for its neigbours also. We are facing terrorism, we are trying to address this problem. We will do everything so that the peace returns to Afghanistan."
When asked about the role Afghanistan would like India to play in the region, Adbali said, "We have a strategic partnership agreement with India. Peace and stability is not only through military means.
"It has to be done by different means through developing economy of a country, political arrangements between countries. So we are engaged with countries including India to bring peace through different means. We are hopeful that we will soon see peace and stability."
India's security establishment, time and again, has raised concerns over instability in the Af-Pak region as it can have a fallout on India's security.
When asked about Al Qaeda's presence in Afghanistan, Abdali said, "The problem is not finished completely and that is why Afghanistan needs long term commitments from countries including India. We are engaged with countries around the world including United States and NATO. And that's why US is staying beyond 2015 to complete the mission of removing terrorism".
While talking about Afghanistan's relations with US, Abdali said, "All country relations are based on interests. So we have interests in US and US has interests in Afghanistan. And that's good for us that we have a common ground."