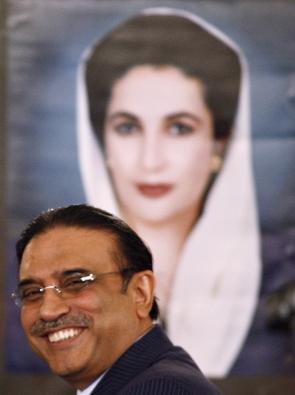 In a golden moment in Pakistan's chequered 66-year political history, President Asif Ali Zardari on Sunday left the presidency after successfully completing his five-year term, paving the way for India-born Mamnoon Hussain to take over.
Zardari is the first elected President to complete his constitutional tenure and to be replaced by an elected individual in Pakistan's history.
He was given a guard of honour, which was not attended by either Prime Minister Nawaz Sharif or the three service chiefs.
Sharif had hosted an official farewell lunch for Zardari earlier this week and praised him for keeping the flag of democracy flying in the country.
Zardari, 58, left for Lahore, where he is expected to spend his days working on the revival of the Pakistan Peoples Party, which was dealt a crushing defeat in the May 11 general election.
Husband of former prime minister Benazir Bhutto, Zardari had a controversial term, but was able to keep democracy on track.
Zardari, as President, remained in the eye of a storm for holding dual office and faced allegations of using the President's house for partisan politics and ignoring key issues facing the country.
He faced a strong and assertive judiciary which pursued him over multi-million-dollar corruption cases against him in Switzerland.
The casualty of the struggle was then prime minister Yusuf Raza Gilani, who was sacked for refusing to ask Switzerland to reopen the cases.
Another big crisis for him was the 'Memogate scandal' and the unilateral United States operation in May, 2011, in the garrison city of Abbottabad that killed Al Qaeda chief Osama bin Laden.
While the President's post is largely ceremonial, Zardari, as the chief of the then-ruling PPP, played an active role in the functioning of the government.
He later had to give up the party post after pressure from the judiciary.
His detractors blame him for the weak economic and security scenario of the country.
Zardari's supporters hail him for taking steps to strengthen democracy and for being the person who made possible the transition of power from one civilian government to another.
They cite passage of important pieces of legislation, including laws empowering women against domestic violence and sexual harassment, as his achievements.
They also cite the passage of 18th Amendment as a major achievement of Zardari, pointing out that he voluntarily surrendered his vast powers to strengthen parliamentary democracy.
Speaking at a dinner for the staff of the President's House last night' the President said he is glad to leave his office with dignity and honour on completion of his term.
Zardari said that he always took decisions in the interests of the country, adding he devolved powers to the Parliament voluntarily.
He came to centre-stage after his marriage with Benazir Bhutto in 1987. Between 1993 and 1996, he held various cabinet positions in the second Benazir-led government.
Zardari was arrested on charges of corruption in late 1996.
He was released from jail in 2004 and went into self-exile in Dubai, but returned home in December 2007 following Bhutto's assassination.
Zardari came only after the promulgation of the controversial National Reconciliation Ordinance by then military ruler General Pervez Musharraf.
The NRO granted amnesty to politicians, political workers and bureaucrats who were accused of corruption, embezzlement, money laundering, murder, and terrorism between January 1 1986, and October 12 1999, the time between two states of martial law in Pakistan.
It was declared unconstitutional by Pakistan's Supreme Court on December 16, 2009, plunging the country into a political crisis.
The new Pakistani President would be sworn in on Monday.
Replacing Zardari would be Hussain, who had emerged as a clear winner in the one-sided contest with former judge Wajihuddin Ahmad of Pakistan Tehreek-i-Insaf party.
Born in the historic city of Agra, Hussain, who belongs to an Urdu-speaking ethnic group that migrated from India during partition in 1947, was the Pakistan Muslim League – Nawaz government's candidate.
He comes at a time when the government is framing a new counter-terrorism policy.
Among the many decisions that he will take once he assumes office, the controversial one would be the subject of lifting the moratorium on capital punishment in Pakistan.
While Prime Minister Nawaz Sharif wanted to lift the moratorium, Zardari wanted it to continue.
Photograph: Reuters