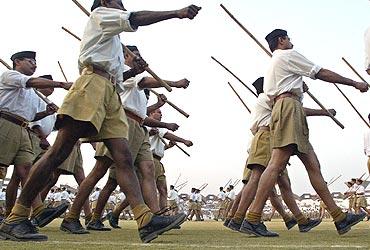 Efforts to build a coalition government in Jammu and Kashmir with the Bharatiya Janata Party and the People's Democratic Party have hit the Rashtriya Swayamsevak Sangh hurdle.
The RSS is monitoring J&K government formation in the wake of reports that the PDP was "pushing separatists' agenda". The PDP has come out with a list of demands -- a written commitment on Article 370, repeal of Armed Forces Special Powers Act and talks with separatists and Pakistan -- that the RSS, or for that matter the BJP, can never accept. The prime minister is likely to take a call on PDP's demands.
Reacting sharply, senior RSS leader Seshadri Chari said, "This looks like a wish list of Islamabad. The Sangh or the BJP can never give a written commitment on Article 370. On dialogue with separatists, the Indian government has taken a consistent stand. A political party should not dictate terms with the Central government on the issue of AFSPA or talks with Pakistan; it's the Centre's prerogative and none of PDP's business."
According to Chari, if the PDP raises such demands, the BJP would rather explore the option of sitting in the opposition. "Even the position of leader of opposition is a big deal in the context of J&K," he added.
K N Govindacharya, former ideologue of the BJP, said the party should desist from tying up with the PDP for term gain. "I believe that if any alliance happen between PDP and BJP in Jammu and Kashmir it is absolutely immoral. Such alliances are short-term gain, long-term loss," he added.
An official associated with an RSS-affiliated outfit working in J&K, too, echoed the view. "But both sides will have to do some compromise without hurting their core ideals. If the PDP doesn't come around, it is their loss; because the state will, then, be under Central rule."
"For power, you can't compromise on the basic ideals on which you have built up the whole organisation. How can you go back on Article 370? If the BJP goes ahead and forms a government on these conditions, the organisation will have to pay for the next 50 years," said another RSS leader who did not wish to be named.
However, a few BJP leaders are hopeful of surmounting the obstacles and forming a government in the coming weeks. There is a race within the BJP for the deputy chief minister's post. Nirmal Singh and Ravinder Raina are said to be the front-runners.