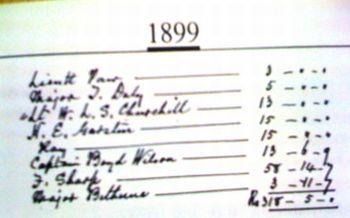 Former prime minister of Britain Winston Churchill has unfinished business at the Bangalore Club.
A ledger entry, which is part of the Club World Book, which was released as part of the 125th anniversary celebrations of the Club states that Churchill owes Rs 13 in unpaid bills to the club.
The Bangalore Club is considered to be one of the most elite clubs in the country and was started in 1868 by a group of British officers.
Churchill is one among the 17 defaulters named in the ledger entry dated June 1, 1899. Lt WLS Churchill's name accompanied by his photograph comes third in the defaulters' list.
Secretary of the Bangalore Club Colonel Krishnan Dakshina Murthy told rediff.com that the issue has gained significance since Churchill went on to become the prime minister of Britain.
He had arrived in Bangalore in 1896 as an army officer and left the city in 1899 to fight in the North West Frontier, which is now Pakistan.
"This is a rare case," says Colonel Murthy.
"Who would have thought back then that he would become the prime minister of Britain? He also adds that the dues that Churchill owed to the club were discovered posthumously and after it had become public several visiting British citizens offered to clear off the dues.
Churchill during his stint in Bangalore spent many evenings at the Bangalore Club drinking whiskey. He may have accumulated this sum due to this.
Churchill had also mentioned in his memoir My Early Life that Bangalore was a "third rate watering place" with lots of routine work to do, without society of good sport.
Image: The diary page listing Winston Churchill among the defaulters | Photograph: Vicky Nanjappa