While his performance is commendable, the bribery charges against him just don't go away.
Aditi Phadnis reports.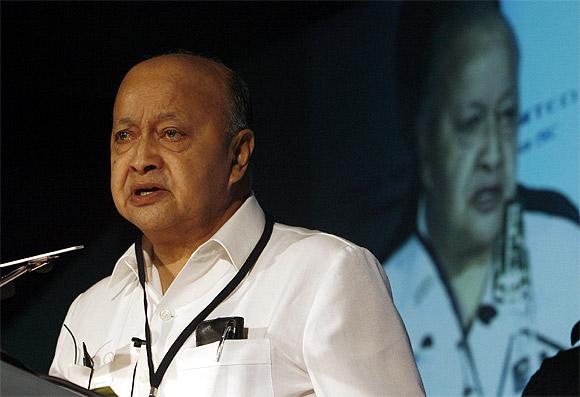 The top leadership of the Congress seems to have made peace with Virbhadra Singh though that is no guarantee that the party will win the Himachal Pradesh assembly elections to be held on November 9.
A five-time chief minister, two-term minister of state in the Union government and a politician who first became a member of Parliament in 1962, Singh has been around for a long time.
In 2012, although he was no favourite of the Nehru-Gandhi family, the Congress had no choice but to appoint him chief minister.
That doesn't mean he is not in trouble.
The Bharatiya Janata Party has alleged that Singh accepted Rs 1.5 crore (Rs 15 million) and Rs 2.4 crore (Rs 24 million), through cheques in his name as well as that of his parliamentarian wife Pratibha Singh, from Venture Energy & Technologies.
The company was given two extensions in a hydel power project despite defaulting. This makes it a case of bribery and cronyism.
This is not the only case.
The investigating agency has charged that Singh has more than Rs 10 crore (Rs 100 million) in assets that are disproportionate to his known sources of income. The cases are proceeding apace in court.
This has not deterred Congress Vice-President Rahul Gandhi from declaring him as chief minister if the party gets the numbers in December when the assembly poll results are announced.
Prime Minister Narendra D Modi has said it is a 'zamaanati sarkar' (a government out on bail).
How does such a man keep becoming chief minister?
Singh has a reputation for performance in the state. It was during his tenure that the full electrification of Himachal Pradesh was achieved. The last village to get electricity in the state was Kibber, in Spiti, as long ago as 1988! (it is also one of highest villages in the world to have got a road).
Throughout his political career, Singh has managed to resist the temptation of the politics that has been a staple for other HP politicians -- playing Upper Himachal against Lower Himachal.
Because the needs and wants of the two regions in this hill state are different, few politicians enjoy equal acceptability in the Kangra region (the heart of Lower Himachal that sends 16 seats to the assembly) and Shimla (the centre for Upper Himachal that has just eight seats in the legislature but enjoys disproportionate power).
But if Singh has got a four-lane road built for Upper Himachal, he has also ensured that Lower Himachal got a six-lane road.
Himachal Pradesh has a generally higher rate of literacy than the rest of India. During his tenure as chief minister, Singh has made sure that there is no village without a primary school.
If there is criticism of him, it is because of his autocratic style.
He is the last raja of the Rampur-Bushahr dynasty, and was the last chief minister in 2008 when the Congress was ousted in the assembly elections.
At the time, three prominent leaders from Kangra -- Vijai Singh Mankotia, Chandresh Kumari and Brij Bihari Butail -- were dropped from his cabinet (2004), leading to protests that he was discriminating against the region.
In fact, he dropped them because he suspected the three were ganging up against him. He might have been right, because soon after that Mankotia left the party to become chief of the Bahujan Samaj Party's Himachal unit.
It was this trait that made one of Himachal Pradesh's best known politicians, Sukh Ram, leave the Congress to form his own party.
In 1998, the BJP's Prem Kumar Dhumal would have never got the chance to form a government in Himachal Pradesh if the Congress had heeded Sukh Ram's condition -- that anyone but Singh be made chief minister.
It is another matter that Sukh Ram's son Anil Sharma joined the Singh government in 2014 and became a minister, only to cross the floor again in 2017 to join the BJP.
But the bribery charges just don't go away.
When he was Union steel minister, a public interest litigation charged Singh with massive income tax violations and also alleged a pay-off to a steel company.
The high court took cognisance and asked the Central Bureau of Investigation to file a status report.
Singh was then dropped from the government. Now those chickens are coming home to roost. And no one can do anything about it.