The CPI-M will elect a new general secretary replacing Prakash Karat who steps down after three terms.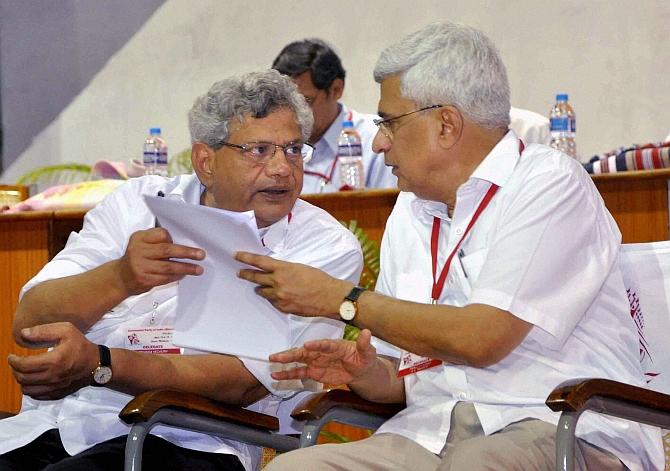 Image: Communist Party of India-Marxist General Secretary Prakash Karat, right, and party leader Sitaram Yechury, one of the front-runners to succeed him, at the party's 21st National Congress in Vishakapatnam. Photograph: PTI Photo
The appointment of the Communist Party of India-Marxist's new general secretary comes at the end of the party's five-day 21st National Congress in Visakhapatnam where it is reviewing the CPI-M's performance over the last 25 years.
The front-runners are Politburo members Sitaram Yechury and S Ramachandran Pillai.
In his speech at the CPI-M National Congress on Thursday, April 16, Karat -- under whose tenure the party lost West Bengal and suffered its worst electoral losses in recent years -- said: 'There is no need to explain to the Communists about the menace posed by the neo-liberal-communal agenda. The question is how do we go about fighting back this offensive? How do we build broad-based resistance? How to fight the communal forces on the ground?'
'The Left can do so only by building powerful movements of the basic classes -- the workers, the peasants, the agricultural workers and the urban poor. By mobilising the vast mass of the oppressed -- women, Dalits, adivasis and minorities. Only the Left can provide the core of the resistance to the neo-liberal onslaught and develop it into a mass movement.'
Karat's comments could be read as an endorsement of the septuagenarian SRP, as Pillai is usually referred to.

Pillai, who is considered number two in the CPI-M Politburo, has headed the All India Kisan Sabha -- the party's farmers wing -- since 1999.
What could go against the veteran Marxist -- who reportedly has the support of the CPI-M's Kerala faction -- is his age. At 77, he is 14 years older than Yechury, who is also Karat's biggest rival in the party.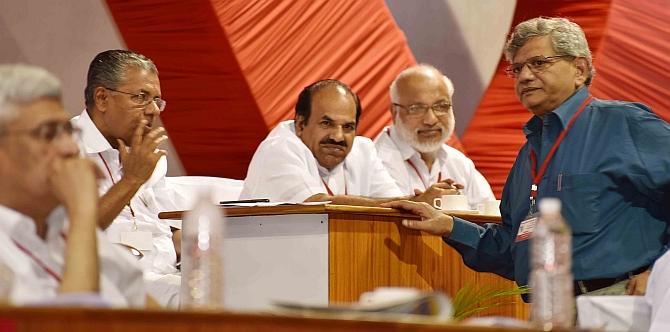 Image: Sitarm Yechury interacts with the CPI-M's Kerala leaders, left to right, the powerful Pinarayi Vijayan, the party's current boss Kodiyeri Balakrishnan and M A Baby. Photograph: SnapsIndia
Yechury as party general secretary would reverse the Karat line and likely form alliances with like-minded parties to restore the CPI-M's relevance in national politics.
A graduate of the Jawaharlal Nehru University, the articulate and personable Yechury has many friends cutting across party lines and is someone the Congress leadership could work with.