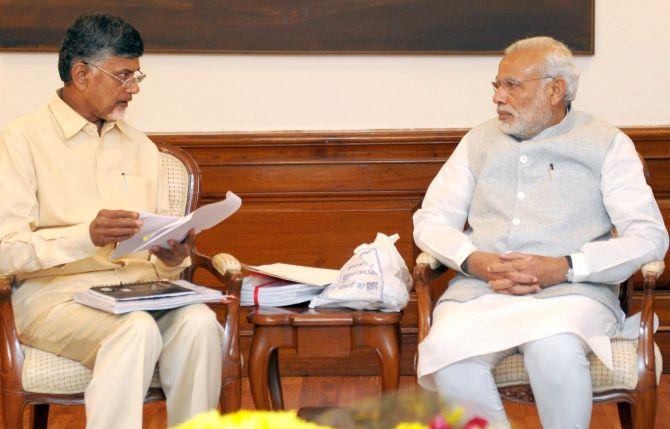 The Telugu Desam Party on Sunday said its alliance with the Bharatiya Janata Party in Andhra Pradesh and the Centre was very much alive, following speculation that the party was disgruntled over the "raw deal" that the state got in the Union Budget.
TDP leader and Union minister Y Satyanarayana Chowdary briefed the media about deliberations at a meeting convened by Chief Minister Chandrababu Naidu on the Union Budget.
"As and when it is required, the chief minister and party chief will take the decision appropriately. As of today it (the alliance) is just going on. We never said (about snapping ties)...it's all speculation," he said in Amaravati.
"Our state is in a disadvantageous position due to bifurcation (of united Andhra Pradesh). People are dissatisfied because there is no specific mention of state issues in the Union Budget. All this was discussed," Chowdary said.
The meeting was attended by party MPs, a few state ministers, senior TDP leaders and senior bureaucrats.
"We have already taken up the issues with the Union Finance Minister, Railway Minister (on setting up a railway zone in Visakhapatnam). Definitely, in the next 2-3 days we are hopeful everything will be resolved," he added.
Chowdary added that the TDP would raise the state's demands, if required, in Parliament.
Some of the issues over which the TDP is miffed are the implementation of a special financial package for the state, setting up of a railway zone, deficit finance and schemes related to development of Amaravati as the state capital.
"People (of Andhra Pradesh) are looking forward with anticipation. They (the Centre) have done something, but much more needs to be done. We will discuss these things in the next two-three days and try to work out a solution," Chowdary added.
"If required we will protest inside Parliament. We are discussing specific points. If we don't get clarity, definitely we will protest inside Parliament during the (Budget) session," the Union minister said.
Asked if the two TDP ministers in the Union Cabinet were ready to resign if the state's demands were not met, Chowdary said, "As and when it is required, our CM and party president will take appropriate decision."
"I suggest the media should never anticipate, or think of, a divorce. You should think only of marriage," Chowdary said, when asked if a "divorce" with the BJP was imminent.
Asked if BJP chief Amit Shah spoke with Naidu (after reports about TDP's resentment started doing rounds), Chowdary replied in the negative.
Nor did Naidu speak to Shiv Sena chief Uddhav Thackeray, BJP's bickering ally in Maharashtra, as some media reports claimed, he said.