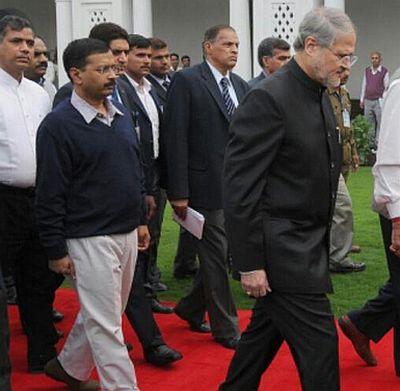 How Delhi Lieutenant Governor Najeeb Jung handles the fight with Chief Minister Arvind Kejriwal over the issue of appointment of a chief secretary will be an interesting insight into his personality, says Aditi Phadnis
He is one of the few governors the Narendra Modi-led National Democratic Alliance government has not replaced after it came to power a year ago. Delhi Lieutenant Governor Najeeb Jung was appointed by the Congress, retained by the Bharatiya Janata Party, tolerated by the Aam Aadmi Party… until now, when the latter says he is acting as "an agent of the Union home ministry".
So, who is this man who had endorsement from such a wide range of political opinion?

Originally from Hyderabad, Jung's family shifted to Delhi before partition. It was a joint family and they owned the Golcha Cinema in Daryaganj, a stone's throw from Raj Niwas.

Jung lost his father early in life and was brought up by his mother and an uncle. The family believed in modern education and he was sent to St Columba's School. Then he went to St Stephen's College, where he studied history.

Jung began preparing for the civil service exams the day he got his Bachelor's degree. He cleared the exam in his first attempt and qualified for the Indian Police Service. He joined the service and took the exam again.

This time, he made it to the Indian Administrative Service and opted for the Madhya Pradesh cadre. That was in 1973.

Jung's real break came in 1984 when Madhavrao Scindia became railway minister in the Rajiv Gandhi government. Scindia asked Jung and another officer, Asif Ibrahim (who became director, Intelligence Bureau), to become part of his personal staff.

Scindia did a lot of modernisation of the railways but it was Jung who ran his office. When Scindia became minister for civil aviation in Narasimha Rao's tenure, Jung was no longer available: he had become joint secretary (exploration) in the ministry of petroleum and natural gas.

It was here that Jung came into contact with business houses. When his tenure in the ministry came to an end, he did a stint at the Asian Development Bank, in the mid-1990s. His interest in energy took him to Oxford, where he did a PhD in energy research, and later quit the IAS. A corporate outlook helped: He worked as director (energy research) with the Reliance India-funded Observer Research Foundation, having worked in London earlier with Reliance Global Management Services.

But Jung wanted to come back home. He returned in 2008-09 and, after doing this and that, was appointed vice-chancellor of Jamia Millia by then human resources minister Kapil Sibal.

Jung ran the university with an iron hand, dismissed many students and also some teachers. Then, he was appointed lieutenant governor of Delhi.

Jung's strongest point is his collegiate style of working. He will not be 'guided' into signing a paper. He will ask, and if he doesn't know, will always confess he doesn't know. Right now, he is in the hot seat: He rather likes living in 6, Ludlow Castle Road but will not be anyone's agent. On the other hand, with 67 of 70 MLAs, Arvind Kejriwal is nobody's fool.
The issue of the appointment of a chief secretary of Delhi is an excuse: Kejriwal is spoiling for a fight and it is Jung he has chosen to have one with. How Jung handles this will be an interesting insight into his personality.