Chief minister Shivraj Singh Chouhan's task is to live down the hype and address the nitty-gritty, reports Radhika Ramaseshan.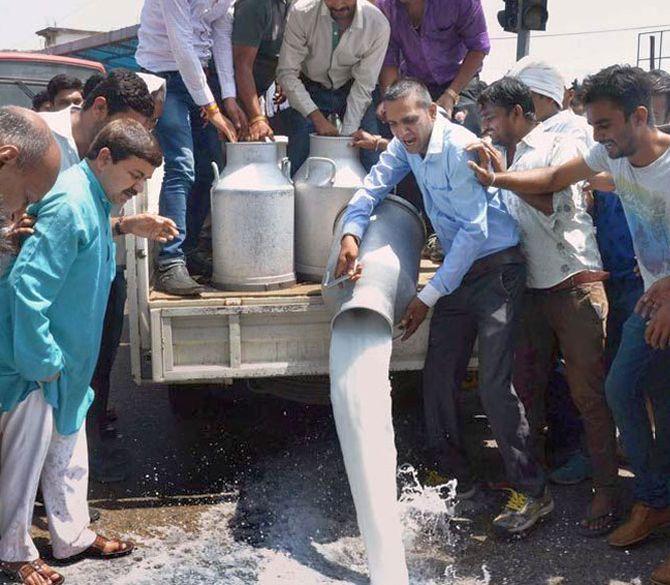 A potpourri of challenges do not make for an optimistic forecast for the ruling Bharatiya Janata Party in Madhya Pradesh, where a legislative assembly election is due by December.
The issues that exercised the BJP in the Gujarat election -- Patidar uprising, agrarian unrest and aspirations of Dalits and tribals -- together 35.5 per cent of the state's population (2011 census) resonate in MP, that has Gujarat for an interactive neighbour.
Hardik Patel, spearhead of Gujarat's Patidar Anamat Andolan Samiti, was twice stopped from addressing MP's Patels.
The latter are 10 to 12 percent of the population, live largely in the Malwa region abutting Gujarat and impact 65 of the 230 assembly seats.
"Hardik's on a high and will campaign against us," a BJP functionary said.
The one bright spot BJP insiders glimpsed is the Congress party's "inability" to bring together its big league leading the various factions.
They hoped that if Congress heavyweights Digvijaya Singh, Kamal Nath and Jyotiraditya Scindia crossed wires as they did in the past three state elections, the BJP might get a fourth term.
"This is a risky strategy. When there's anti-incumbency of a rather high order, voters don't care if the opposition is united or not. We have to straighten out our issues and not bank on the Congress' failures," admitted a Rajya Sabha member of the BJP.
On the surface, it's hard to see a major upset for the BJP.
A party ideologue from MP outlined the big picture, highlighting the imponderables.
"For the first time, we are in power at the local government, state and Centre. This leaves us no opportunity to blame anyone for our troubles," he said.
And, acknowledged that after 15 years in power, the BJP brimmed with "ambitious but disgruntled" members, including its MLAs.
"A person may have got elected at 25 but today he's 40, holds no position and feels he's a loser," he observed.
The upshot being workers and cadre at large being afflicted with the 'what's-in-it-for-me' syndrome, and not enthused in talking up the MP government, the Centre and the BJP, leaving Narendra Modi, Amit Shah and Shivraj Singh Chouhan to do the hard and soft sell.
But sell what?
Chief minister Chouhan showcased and won plaudits as well as votes for flagship schemes like 'Ladli Laxmi' intended to empower girls and young women and for achieving double-digit annual growth in agricultural output, expanding the area under irrigation in 10 years from 750,000 hectares (2005) to 3.6 million ha (2015), enhancing rural incomes.
The government also maintained a steady price line, streamlined the procurement system and balanced the peasantry's interest with those of traders.
Listen now to Laxmi Narayan Yadav, BJP MP from Sagar and a farmer.
"There's a problem of plenty and penury. Prices of arhar dal, masoor dal, channa and soyabean have crashed. Arhar's minimum support price was Rs 5,500 per quintal in 2016; it fell to Rs 3,500 in 2017. Why did the Centre import so much of dals when these were available in plenty domestically?" he asked.
He says with rising agri commercialisation, farmers require a price-risk support mechanism.
Like Modi, Chouhan's reflexes are quick.
Following farmers' protests at Mandsaur in June 2017 that claimed five lives in police firing, Chouhan unveiled a Bhavantar Bhugtan Yojana (price deficit financing scheme) to hedge price risks and compensate farmers forced to make distress sales at less than the MSP.
"It was a revolutionary step," claimed BJP state general secretary Kailash Vijayavargiya.
Not many in the party share Vijayavargiya's enthusiasm for the scheme.
Another MP, requesting anonymity, said traders overnight struck back by forming cartels and artificially lowering foodgrain prices.
"Had the government arrested half a dozen errant traders, the malaise could be stemmed. The price difference the government was supposed to reimburse to farmers was pocketed by the traders. The BJP won't act against traders because they constitute its core constituency," he rued, adding he was heckled by his constituency's farmers.
Compounding agrarian restiveness was the state government's alleged botching up of the Centre's crop insurance scheme.
Nearly 3.7 million farmers bought insurance for their kharif crop in 2016 but only 742,000 got payment for crop damage; the rest got paltry amounts.
Chouhan's task is to live down the hype and address the nitty-gritty.
Image: Farmers throw away milk during their strike in Bhopal. Photograph: PTI Photo.