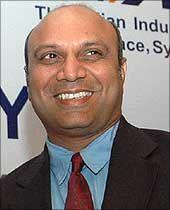 M M Pallam Raju, who has been allocated the human resources and development portfolio, on Sunday said he will carry forward the "good work" initiated by his predecessor Kapil Sibal, who set in motion several reforms during his tenure.
"Kapil Sibalji has done a lot of good work and I think that needs to be carried forward," Raju told reporters in New Delhi following his elevation as a Cabinet minister.
Raju, who was MoS in the defence ministry, takes charges of the HRD ministry at a time when a host of legislations related to reforms in higher education sector are pending in Parliament.
The ministry has also set a target of achieving gross enrolment ratio in the sector at 30 per cent by 2020.
He hailed the decision of Prime Minister Manmohan Singh and Congress chief Sonia Gandhi to induct five more faces from Andhra Pradesh in the government, saying the issue of representation from the state has been "rectified".
"I think, both in UPA I and II, we had the largest contribution of MPs from Andhra Pradesh and I think people of Andhra Pradesh were also feeling let down on the issue of adequate representation. Now its been rectified. We are grateful to Soniaji and the Prime Minister for rectifying that," he said.
 Image: HRD minister Pallam Raju