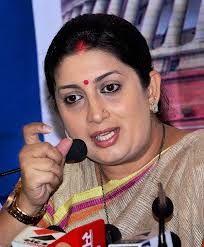 Human Resource Development Minister Smriti Irani on Thursday rejected allegations that her ministry was trying to push books written by Hindutva ideologues, saying it will abide by "constitutional modalities" before taking any step.
Emphasising on a new education policy for the country, she said deliberations will begin from next year on the issue and a "review" will be carried out for efficient implementation of the Right to Education and Sarva Siksha Abhiyan programme.
She also said that a recently submitted report, which examined the no-detention policy in classes, will be taken up for deliberation at the next meeting of the Central Advisory Board of Education.
Replying to a volley of question while presenting her ministry's 100 days work, Irani expressed concern over incidents of ragging and said messages have been sent to all schools to take strong actions against those found involved.
To a question on whether her ministry would be introducing books written by RSS ideologue Dinanath Batra and which are taught in classes in Gujarat, she said these were mere reports coming in sections of media.
"You are trying to create a controversy based on reports in media. I had said in Parliament that whatever step we take, whether in school education or higher education, they will be taken within constitutional modalities and responsibilities."
Batra is reported to have sent proposals to Irani after she assumed office, demanding revamp of school curriculum inculcating 'values and nationalism' in students. Some of his books have also been translated into Gujarati to be part of the state's school curriculum.
He had also courted controversy for having American scholar Wendy Doniger's book pulped on grounds that it insulted Hindus.
Laying stress on girls education, Irani said her government was committed to provide friendly environment in schools for them and said steps are being taken to realise Prime Minister Narendra Modi's vision of having girls toilets in schools by July next year.
Irani said a blue print will be unveiled about 'swatch vidyalaya' programme in the coming weeks.
"Yesterday a meeting was also held with 25 ministries where we discussed how the PSUs can contribute to this. An action plan was prepared," she said and thanked the corporate world for showing interest in construction of toilets.
Asked about the ministry's stand on a sub-committee report of CABE prepared Haryana Education Minister Geeta Bukkal, she said it will be taken up for discussion at the CABE meeting.
The report is understood to have suggested reintroduction of class examination up to standard VIII which was scrapped under the RTE regime. The committee was of the view that standard of education was on decline as there was no examination and detention in classes.
She said the chief ministers have also expressed some concerns over the implementation of RTE and Sarva Siksha Abhiyan which are being "reviewed".
When her attention was drawn to recent incident of ragging in Scindhia School in Gwalior and an alleged sexual harassment of a Visa Bharati University student, she said her ministry has been very "vocal" about such incidents and has communicated its willingness to see strong action is taken against those involved.
"As far as the incident in Viswa Bharati is concerned, UGC has sent a fact-finding team there to get their observation. Police is also doing investigation. Upon submission of report, we will take further action," she said.
The minister parried a question about controversies surrounding the appointment of some vice chancellors during the UPA regime, saying her government will serve the education sector in a "meaningful" way and maintain "constitutional decorum".
But she also added that that her ministry will not be allowed to be used for "witch hunting".
She also spoke about her ministry's initiative to check unfair practices in institutes and said it was addressing some concerns raised by a Parliamentary Panel for the roll out of the National academic depository programme.
"We are also seeing what the institutional reforms can be done within the structure of our regulator to ensure unfair practices by institutions are stopped," she said.