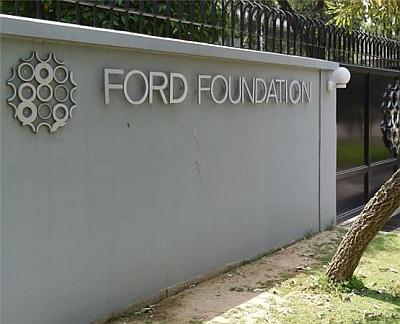 Ford Foundation, whose financing came under scrutiny in India last year, appears to have received help from John Podesta, chairman of the Clinton Campaign, to resolve the issue for which he is believed to have spoken to Prime Minister Narendra Modi too, according to latest emails released by WikiLeaks.
"You may recall that I have been a Ford Foundation trustee for a number of years. I learned from Foundation President Darren Walker during a sidebar discussion of your pivotal assistance with the Indian Prime Minister. Remarkable -- You never cease to amaze," Thurgood Marshall, Ford Foundation board member, wrote in an email to Podesta in July 15, 2015.
Podesta was a top Obama Administration official on climate change before joining Clinton campaign.
"Thanks -- I remain a loyal member of the Podesta Fan Club and in your debt for being one of my best bosses and colleagues," Marshall wrote to Podesta, who had left the White House several months ago in February and joined the Clinton Campaign in April 2015.
Podesta has refused to entertain questions on WikiLeaks, which claims to have access to several thousands of emails of the top Clinton Campaign official through hacking into his system.
Podesta has not confirmed the authenticity of these emails, even as it is being widely reported in the media.
Marshall thanked Podesta for his help in resolving the Fort Foundation issue.
"I am only too happy to have avoided the nitty gritty on the India issue but I was relieved and pleasantly surprised by the swift positive turn of events -- hence my recent conversation on the topic with Darren who identified you as a primary reason for the positive turn. He's been a fabulous colleague -- a law school classmate of Begala, by the way," Marshall wrote in his email.
Ford Foundation, notably is a major funder to Center for American Progress which was founded by Podesta.
Xav Briggs, who is the Ford Foundation Vice President in Delhi wrote in an email, "We see our situation as part of a larger set of moves by the Government of India to treat civil society differently, to be sure. But we're not headed to the barricades. The Ford situation is special, in part because we were ensnared as part of a larger criminal investigation.
"We see scrutiny and compliance as legitimate and important everywhere we work. We look forward to working things out constructively. I briefly explained our long-standing exceptional status vs the recent steps Gates took to register in India -- merely as an example. And Modi is no fan of Nehru. Invoking that personal invite long ago is not our best card to play.
"Acting privileged is not our approach to this," he said in the email.
"....In general, we should all look to build on the evolving, positive relationship between (Barack) Obama and Modi and see that this gets worked out in a constructive way. That's in the interest of both countries, not just the foundation," he wrote.
Briggs said he would write separately about "encouraging news story about Home Affairs 'allaying' our concerns", and requested that his email be forwarded to Podesta.
Briggs said the Ford Foundation takes the long view and sees adapting to 'shifting space' as an important part of remaining effective and relevant in a wide variety of settings across the globe.