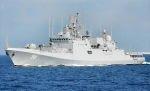 Even as a controversy raged over 'wife swapping' charges in Navy's Southern Command in Kochi, Defence Minister A K Antony today ordered the dismissal of a Naval officer after he was found guilty of having illicit relations with the wife of his superior.
The order of dismissal of the officer, who is a Lieutenant Commander (equivalent to a Major in the Army), from service was approved by Antony on the basis of the inquiry report submitted by the Naval Headquarters on charges against him, defence sources said.
Without divulging the name of officer, the sources told reporters that he was found to be guilty of 'stealing the affection of brother officer's wife', which is a punishable offence in the armed forces.
The dismissal of the officer came at a time when the Navy is in the midst of dealing with a police complaint by the wife of a Lieutenant in Kochi accusing his seniors and colleagues of sexual harassment. The woman also made 'wife swapping' charges.
The Navy has also sent a report to the defence ministry denying the charges of sexual harassment in an FIR filed in Kochi.
The Navy has denied the charges, saying the Southern Naval Command had investigated the charges at its level and found that they were wrong.
Taking serious view of the allegations levelled by the officer's wife, Defence Minister A K Antony had ordered the Navy to submit a report in this regard.
The Navy has been consistently defending its officers and issued a statement saying "the wife of the officer has levelled unfair allegations against superior officers in her husband's chain of command, their spouses and other officers who have interacted with her."
"These officers accompanied by their respective spouses had tried to unsuccessfully resolve the issues dogging the couple's personal life in a bid to leverage the strength of the Naval community bond," it had said.
The Navy has also promised full cooperation to the ongoing police investigations into the case.