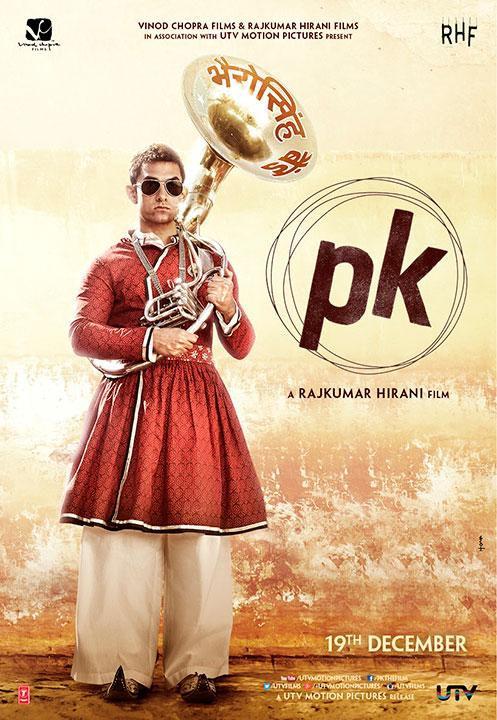 Netas in Uttar Pradesh are using Rajkumar Hirani's film PK to play the politics of polarization. Sharat Pradhan / Rediff.com reports

Aamir Khan's box-office hit PK has come in handy for Uttar Pradesh's ruling Samajwadi Party, its staunch adversary Bahujan Samaj Party and the now-potent contender Bhartiya Janata Party, to play the politics of polarization.

Film-maker Rajkumar Hirani may have left no stone unturned to send his message across against prevailing myths and superstitions in various religions. Yet, the political class seemed to be moving heaven and earth to twist the theme for pushing their own respective agenda.

No sooner than the Vishwa Hindu Parishad and its parent body, the Rashtriya Swayamsevak Sangh raised an outcry against the film by dubbing it as "hurtful to the Hindu sentiment", Chief Minister Akhilesh Yadav chose to make the movie tax-free in the state.

A jittery Mayawati then sought to take on her rival by opposing the move in the hope of retrieving her slipping Dalit vote-bank.

It was glaringly evident that each of the three political players were out to take political mileage out of the film that was purely intended to be a sharp social satire to expose the infirmities in the practice of various religions, with special emphasis on the exploitation of commoner's "blind faith".

If the BJP allies were hoping to play to the hardcore Hindutva gallery, the SP was out to consolidate its Muslim vote-bank, while the BSP sought to use the opportunity to wean away Dalit supporters who off late seemed to have switched in a substantial manner towards Narendra Modi's
BJP.
The RSS and the VHP were pointed in their attack against the movie, which they chose to deliberately describe as an "Aamir Khan film". Their objective was absolutely blatant -- to systematically present it as a "mission" to denigrate Hinduism.
While claiming that he made it a point to download the film from the Internet and watch it, Akhilesh reacted sharply by saying, "
Yeh BJP samarthak jitna bhi mahaul kharaab kar rahe hain inko jaakar ke PK film zaroor dekhni chahiye. Iseeliye inke liye maine ise tax free kiya hai. Agar film dekh lein to usi ki tareef karte hue picture hall se niklenge (these BJP supporters are trying to vitiate the atmosphere. But I feel they must see PK, that is why I have made it tax free. If they were to see the film, I am sure they will come out of the cinema hall praising it.)
"
This became absolutely unpalatable for Mayawati, who specially flew down to Lucknow and held a press conference to dismiss Akhilesh's decision as "politically motivated."
She declared, "
Uttar Pradesh sarkar ke mukhiya ko mein yahi salah hai ki unko chand rajneetik laabh ke liye satta mein rah kar aisa koyi galat kadam naheen uthana chahiye, jisse Pradesh mein aur zyada sampradayik tanaaw paida ho jaye (in the larger interest of the people of this state, I would like to advise the UP CM to refrain from indulging in any such act that could accentuate the communal tension in the state)
".
Sure enough, if Hirani was making his billions from the box office, back in UP, its key political parties were out to reap their own harvest of votes by raising the pitch on "PK".