The Durbar Mahila Samanwaya Committee, an NGO in the heart of Kolkata's red light district, has decided to celebrate Durga Puja, reports Indrani Roy/Rediff.com.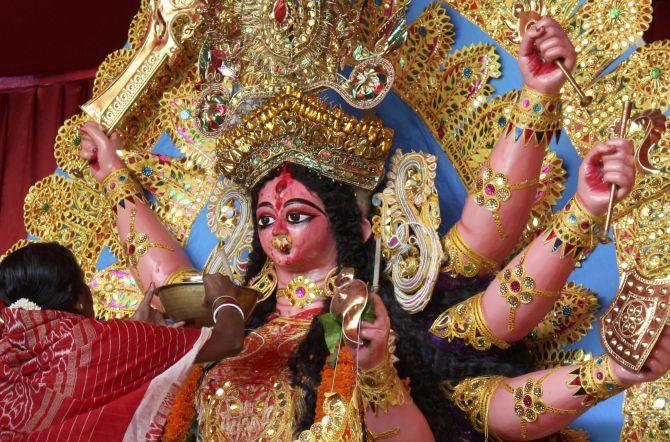 Image: A woman offers prayers to goddess Durga. Photograph: Amit Dave/Reuters.
This Durga Puja will hold special significance for Sayanara Biwi.
In a break from years of tradition, the Durbar Mahila Samanwaya Committee, a non-government organisation run by sex workers of Sonagachi, Kolkata's infamous red light area, will be organising its own Pujo celebrations.
For several years now, sex workers have not been allowed to participate in Durga Puja rituals even though there is a custom in which a mound of clay is collected from the doorstep of a sex worker, said Sayanara, 35, at one of the health clinics run by the NGO.
Hence, to end this discrimination, the Durbar MSC took the initiative to organise Durga Puja. Speaking of their plans, Sayanara said that initially the idea was opposed by the local police as well as by residents. However, undeterred, they approached the Calcutta high court seeking permission.
They were overjoyed when they were granted permission and even planned a huge pandal. However, they were informed that they could not have a big pandal and would have to mark their celebrations on a smaller scale.
But, the sex workers of Sonagachi don't see this as a setback. "It's a moral victory for our members. Ours is a profession like any other and it's time society acknowledged it," Bharati Dey, secretary of Durbar, told Rediff.com.
She added that the restriction on pandal size was a "ploy by the bhadralok (the upper class)" but they "can't kill our spirit".
"At least, we can celebrate Pujo. We heard that sex workers in other parts of the city and the state have been denied permission. We invite all our colleagues to be a part of our puja," added Bharti.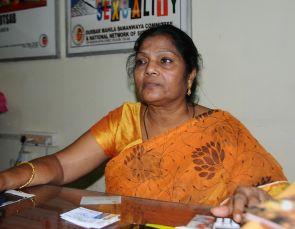 By deciding to play a key role in the biggest of festivals, Sayanara has challenged age-old religious and social norms.
Recalling her struggle, Sayanara says she arrived in Sonagachi after her husband abandoned her and her parents refused to take care of her children.
"As I was about to lie down on the railway tracks close to my village home, a railway police officer rescued me and brought me here under the pretext of getting me a job as a domestic help. Initially I was shocked. But then it felt good to be alive. I started earning and got in touch with my children."
She adds, "I built my new family with the friends I met here. I married my children off. They got busy with their lives. My life, as it stands now, is beautiful," she said, holding the hands of a friend.
"There is only one religion in Sonagachi -- the religion of love," said Krishna Gupta, a portly woman in her late 40s.
"We all are here to earn our livelihood. If the clients we serve don't feel bad about visiting red light areas, why should we be looked down upon," she asked.
Taking a cue from Gupta, her younger colleague Kalpana Gayen said, "Sonagachi is my lifeline. Society only exploits us. It doesn't matter if a man comes to spend a night in our room and offers money for sexual favours, but it does matter if we demand legal rights for our profession," the 25-year-old said in sarcasm.
Speaking of her life, Gayen says she commutes daily from faraway Bardhaman district to feed her two children, aged 5 and 3. "It's a weird world. When a client visits us, he pours his heart out, loves us, but when we meet him somewhere else, he pretends to ignore us. We will pray to the Goddess to put an end to such ignominy."
Talking of their plans for the upcoming celebrations, Sayanara says she is looking after the puja rituals while Kalpana handles chanda collection. "Our colleagues are working overtime so that they can donate generously for Pujo and we do hope there will be no dearth of funds," she said.
As far as donation is concerned, some local residents, mostly women, have voluntarily lent a helping hand. "A senior colleague has pledged to take care of the entire expenses of Saptami, the first day of Pujo," Krishna added.
And preparations are in full swing at Durbar's offices to make sure this Pujo is unforgettable. The idol will be brought from the adjacent Kumartuli area. "Talks are even on with some prominent light designers," said Geeta Chatteree, a senir Durbar member.
The members also added that they would be serving bhog and prasad.
Image (below): Bharati Dey, secretary of Durbar Mahila Samanwaya Committee. Photograph: Dipak Chakraborty.