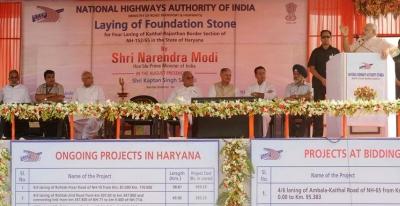 Is Prime Minister Narendra Modi using official functions to 'embarrass' Congress chief ministers? Anita Katyal finds out.
The Congress party is angry over incidents involving Haryana and Maharashtra Chief Ministers Bhupinder Singh Hooda and Prithviraj Chavan, and Prime Minister Narendra Modi.
Modi, Congress leaders claim, embarrassed Hooda and Chavan in their states which will go to the polls in October.
On Tuesday, August 19, Modi visited Kaithal, Haryana, to lay the foundation of the Kaithal-Rajasthan border section of the National Highway where he shared a stage with Hooda. While Modi's speech was greeted with loud cheers, Hooda was shouted down by the crowd that continuously chanted, 'Modi! Modi!'
Hooda later accused the Bharatiya Janata Party of inviting its supporters to the event to boo him. Furious, he declared he would never share a platform with Modi again.
On Saturday, August 16, Modi inaugurated the 765KV Solapur-Raichur transmission lines and four-lanes of the Pune-Solapur section of National Highway-9 in Maharashtra.
When Chavan complained that power plants in his state lay idle because of shortage of coal and gas, Modi shot back, asking the chief minister why he had not raised the issue when the Congress-led United Progressive Alliance government was in power.
'Chavanji is right that there is shortage of gas and coal, and because of that, electricity plants are not working. But why is he raising the issue now?' Modi asked, before firing a jibe at the chief minister, 'Maybe he could not muster the courage to say so then.'
'I can understand Chavanji's problem,' Modi added. 'I said the same thing about shortage of coal and gas when I was chief minister of Gujarat, but nobody paid heed.'
While it is common to trade charges during an election campaign, the prime minister and a chief minister, even if s/he belongs to a rival party, maintain decorum at official events. Congress leaders believe Modi wants to change the rules of the game.
"It is a deliberate ploy to embarrass our chief ministers in states where assembly elections are due," one senior Congress leader remarked.
Congress General Secretary Shakeel Ahmed asked all non-BJP chief ministers to avoid official programmes which are being converted into political events.
Ahmed felt the BJP and the prime minister want to embarrass non-BJP chief ministers at official events to score brownie points.
Image: Prime Minister Narendra Modi in Kaithal, Haryana, August 19, 2014. Photograph: Narendra Modi's Twitter feed.