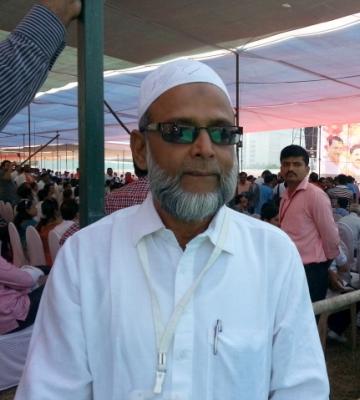 Or for that matter scared of anybody in India if they follow the principles of Islam sincerely in spirit, asks BJP supporter Haji Akhil Shaikh in this conversation with Rediff.com's Prasanna D Zore.
Haji Akhil Shaikh is an angry man. He is angry not at the Bharatiya Janata Party's prime ministerial candidate Narendra Modi for him being "anti-Muslim". He is angry at his fellow brothers who, he says, "Follow Islam just for the sake of it and without practising the teachings of the Prophet (peace be with him) in true spirit."
A resident of Saki Naka, a Mumbai suburb, Shaikh has been a staunch supporter of the Bharatiya Janata Party since 2006. In fact, he had come alone, to hear the Gujarat chief minister outline his agenda for development and progress of India.
"Don't scare us with Godhra and its aftermath. Don't scare us of Modi. Why should any Muslim be scared of him? Why should any Muslim be scared of anybody in India if he loves his country as much as the person next door?" he blurts out a volley of rhetorical questions when asked if Muslims will be treated badly if Modi becomes the prime minister of India.
He is quick to point out a number of riots that took place in India when the Congress was in power at the centre as well as states like Maharashtra, Gujarat, Bihar and other states.
"Somewhere, I feel that Muslims are following their religion only in the name. A true Muslim fears nobody except the Almighty," he says.
Shaikh holds the Congress squarely responsible for the plight of Muslims and all those who profess to be the friends of the community, including his own religious leaders, who peddle influence for monetary gains with the powers that be.
"Rotten apples are every where. They are present in the Muslim community also. But just because Modi's star are in ascendance it is wrong to come and preach to us that we will be reduced to second class citizens under his rule," he argues.
He says that efforts are being made in his locality to scare Muslims into voting for the Congress by raising the Narendra Modi-bogey.
"To know a person, you must first know what the person is," he says in support of Modi. "If he proves our fears right we will stop supporting him. But, at least, give him a chance. How can we judge somebody without knowing him first," he says about the allergy of many Muslims towards the BJP and Modi.
"Stop inciting two brothers (Hindus and Muslims) to take arms against each other," he warns those tendencies that foment communal violence.
"If you think only Hindus kill Muslims or vice versa, come with me. I will show you 10 cases in Hindu as well as Muslim families where brothers are thirsty for each other's blood for money, property or various other reasons," he says.
He believes that if Modi becomes the prime minister, he will prove everybody wrong about his antipathy towards the Muslims.
"I will vote for the BJP and Modi for sure in the Lok Sabha elections. I am not afraid of Modi and nor should any Muslim be if he is following Islam sincerely," he reiterates his views when asked who will he vote for.
"However, one never knows if Modi will become the prime minister even if the BJP comes to power. Yeh gandi sisyasat hai (This is dirty politics)," he says pointing towards opposition to Modi within his own party.
"But for me I want Modi to be the next PM."
Image: Haji Akhil Shaikh
Photographer: Prasanna D Zore