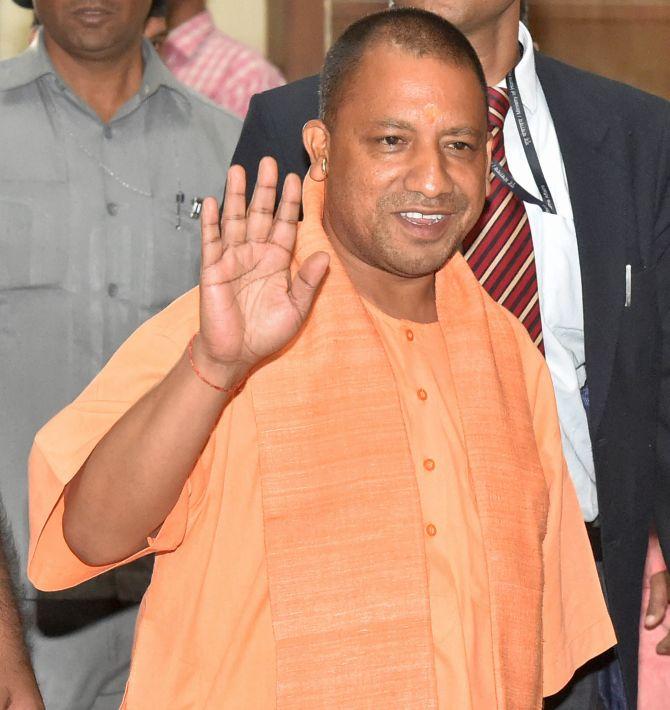 Why should Dalit and backward students not get benefits of reservation in Aligarh Muslim University or Jamia Millia Islamia, Uttar Pradesh Chief Minister Yogi Adityanath has asked questioning silence of those who claim to be concerned about issues concerning weaker sections on this matter.
Opposition Congress, however, soon hit back at the chief minister claiming his comments were just a 'jumla' (gimmick).
"A question needs to put to the people who claim Dalits are being humiliated as to when they will speak out for extending reservations to our Dalit brothers in Aligarh Muslim University and Jamia Millia Islamia," the chief minister said at a programme in Chhibramau area on Sunday.
If students belonging to Dalit and backward sections can get this facility in the Benaras Hindu University then why not in Aligarh Muslim University, the chief minister asked.
Adityanath said there was no discrimination in the schemes being run by the central government and they were meant for the welfare of all including Dalits and backwards.
At the event, Adityanath also alleged that Congress chief Rahul Gandhi remembered temples only during elections.
"Four generations of Rahul's family never wore a 'janeu' (sacred thread worn by Hindus), but at the time of elections, he shows his janeu. Four generations of Rahul Gandhi's family never moved a step towards a temple. One should visit a temple with a feeling of devotion and not for politics or to show off," Adityanath said.
He also accused Congress leaders of trying to demotivate the Indian Army.
"When the Army guns down terrorists, Rahul Gandhi and other Congress leaders raise questions against the army. The Bharatiya Janata Party government at the Centre is trying to eliminate the menace of terrorism from the roots and also address the problem of separatism, which (is why) the Congress is feeling worried," he alleged.
"Time has come to liberate the country from the Congress which speaks in the language of Lashkar-e-Tayiba," the chief minister said had continuing his attack.
Adityanath said Rahul Gandhi had inherited politics while others had moved ahead through sheer struggle. "Rahul behaves like a yuvraj, while we see politics as a medium of service," he said.
Reacting to Adityanath's comments, UP Congress spokesperson Ashok Singh said, "This (statement by Adityanath) is simply a 'jumla', and can be termed a gimmick. If the UP chief minister is so bothered about the welfare of Dalits, then why is there a rise in crimes against them."