Joining the BJP cannot have been an easy decision for former UP Congress chief Rita Bahuguna Joshi, who grew up with secular values and appears to be a victim of the party's durbar politics. Amit Agnihotri reports.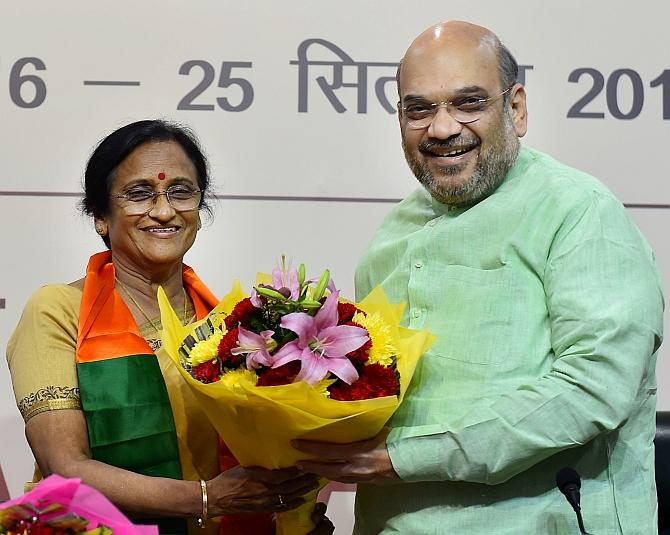 More than the votes, which may or may not come, the Congress lost the political legacy of Hemvati Nandan Bahuguna when his daughter, Rita Bahuguna Joshi, joined the Bharatiya Janata Party last Thursday, after spending 24 years in the older party.
Joshi, who once taught history at the University of Allahabad, started her political journey in 1995 when she managed to win a mayoral poll, with a little help from the Samajwadi Party, leveraging upon a clean image.
She held the post from 1995 to 2000 and used it as a springboard for a more active political career.

Later, when she was the UP Congress chief from 2007 to 2012, Joshi often took on Bahujan Samaj Party supremo and then chief minister Mayawati -- she was even sent to Moradabad jail for making derogatory remarks against the Dalit leader.
Before that, Sonia Gandhi had made Joshi head of the All India Mahila Congress and would consult her on UP matters. She worked closely with Rahul Gandhi during these years.
Joshi was among the few female politicians who were arrested at Bhatta-Parsaul in western UP when Rahul began his anti-land acquisition politics there in 2011.

After the 2012 state assembly poll debacle, when the Congress could win only 28 of the 403 seats, she quit the post, taking moral responsibility for the result but continuing to play an active role in UP politics. As a member of the panel of national spokespersons, she was a regular face on television debates, defending the Congress.
She is now called an opportunist and traitor by former colleagues. Yet, joining the BJP cannot have been an easy decision for the former UP Congress chief, who grew up with secular values and appears to be a victim of the party's durbar politics.

Doubts had been cast on Joshi after her brother, Vijay Bahuguna, former Uttarakhand chief minister, joined the BJP. She had been confiding in those close to her over her limited access to Rahul.
Over the past few months, she was pushed to the sidelines as rivals moved closer to the high command.

After the 2012 polls, former UP Congress legislative party leader Pramod Tiwari, who often faced allegations of hobnobbing with the ruling Samajwadi Party, got a Rajya Sabha seat. He and she both belong to Allahabad and are considered arch rivals. She was upset over Tiwari getting a Rajya Sabha berth.
The final push apparently came when All India Congress Committee mandarins excluded her from the revamped state unit and also gave her no meaningful role in the planning and organising of Rahul's 'Kisan Yatra' across UP.

While Tiwari was made coordination panel chief for the polls, another veteran, Sanjay Singh, was made the poll campaign in charge. And, with Sheila Dikshit named the party's chief ministerial nominee, to woo the important Brahmin vote bank, Joshi's fate was seen as sealed in the UP Congress.
Sources said part of the blame lies with the high command. Party managers had wind of Joshi exploring options with the BJP but chose to let things be, instead of reaching out to and retaining her. What role she plays now will be watched closely by friends and foes alike.
Image: Bharatiya Janata Party president Amit Shah greets former UP Congress chief Rita Bahuguna Joshi after she joined the BJP at the party headquarters in New Delhi. Photograph: Kamal Singh/PTI Photo.