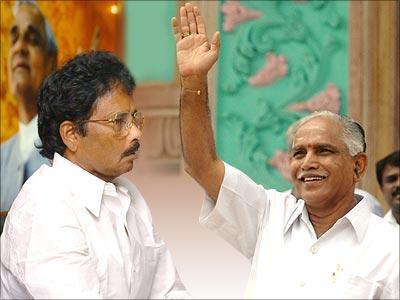 Vicky Nanjappa analyses why regional parties have always failed to lure the voters in Karnataka.
Karnataka has never had a history of supporting regional parties. The best performance by a regional party in the state ever was by the Karnataka Congress Party led by S Bangarappa, which had won 10 seats.
Going by these statistics, it becomes very evident that two regional parties -- namely the Karnataka Janatha Party led by former Chief Minister B S Yeddyurappa and the B S R Congress headed by B Sriramulu -- would be starting off on a back foot
The KJP, on one hand has been claiming that it would topple the Bharatiya Janata Party and form the government with the Congress, despite the latter making no such commitment.
The BSR Congress is desperately looking for allies. It is already in talks with the Janata Dal-Secular, and has even told the party that they could decide on the seat sharing.
However, the JD-S has remained non-committal, and for public consumption, its leader and former chief minister H D Kumaraswamy has stated that they would fight the May 5 polls by themselves.
What makes a regional party fail in Karnataka?
Devraj Urs, a towering leader in the Congress had floated a regional party and failed. Bangarappa, another strong leader from the Congress tried this on numerous occasions and failed miserably. He had launched the Karnataka Congress Party and later the Karnataka Vikas Party and put up a very poor showing.
However Bangarappa's KCP had bagged 10 seats in an election, and that is the best showing by a regional party in the Karnataka legislative assembly of 226 seats.
What makes a regional party fail in Karnataka? Experts would say that the people of Karnataka do not have a regional mindset and have always preferred a national party. There is always this argument then as to why the JD-S has done so well.
The JD-S may have adopted a regional character today, but has always been viewed as a national party by many in the state. It was a creation of the various splinters of the Janata Party which was national in nature.
Moreover, like several other regional parties in the country, the Janata Party was formed through a movement. There is also this additional tag that the JD-S has had a prime minister (H D Deve Gowda).
However, the JD-S today has been adopting a regional approach and this has ensured their downfall in various parts of the state. They are strong only in pockets and are capable of making dents in the Mysore and Mandya belts.
The biggest drawback for a regional party in Karnataka has always been the lack of an ideology and reason. All these regional parties in the state have been offshoots of personal ambition of individuals who have had a personal vendetta or have been ignored in their party.
There is no background or a strong history that these parties have as they come into existence overnight and vanish by the time the elections are complete.
This is very clear in the case of Yeddyurappa. He has been very clear that this is being done to hurt the BJP. However, to give his party some justification he has been championing the cause of regionalism.
But even the voter in Karnataka is aware of what exactly Yeddyurappa wants. He has been calling himself the sole leader of the Lingayats. But in the 1,400 Lingayat-dominated districts he managed to win just 34 seats during the recent urban local body polls.
In Belgaum, which he claimed as his greatest base, he only managed two seats. Sriramulu's case is no different. He floated his political party only for the sake of political survival. With the crackdown on the mining mafia and the names of mining barons, the Reddy brothers coming into the forefront, Sriramulu, who was their closest aide, found himself fighting for survival.
Janardhan, one of the Reddy brothers, was sent to jail and the BJP has already started distancing itself from Sriramulu. He was aware that he would not be given a ticket and had no choice to launch a party to ensure that he survived.
These are not issues that are going to interest Karnataka voters and they are clearly going to stay away from parties that have been launched with a personal vendetta. Moreover according to political observers these regional parties will not be found after these elections are over.