While the massive rally to oppose the Gujarat government's refusal to include the Patel community in the OBC category is likely to shake most of Ahmedabad, little is known about why the community has chosen to go on the warpath.
Prasanna Zore/ Rediff.com talk to members of the Patel community to find out why they are dissatisfied with the state of affairs.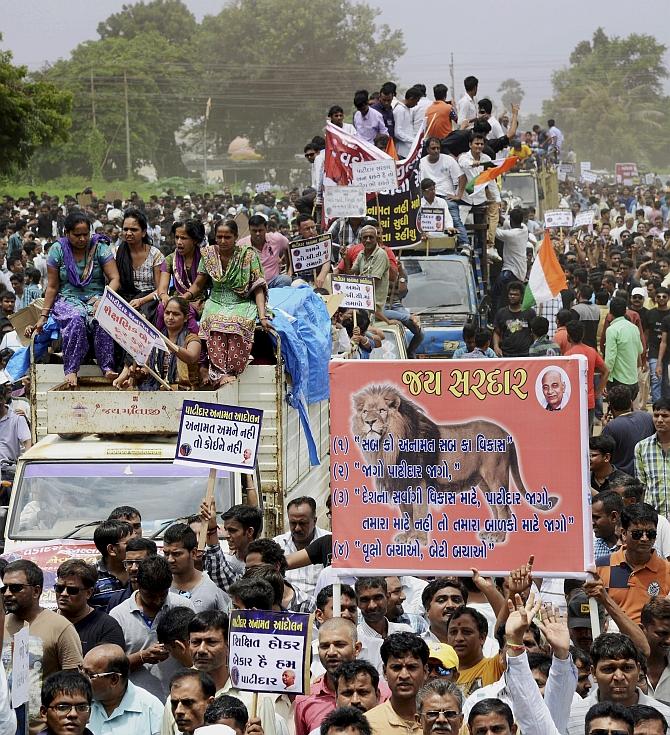 People from Patidar or Patel community hold placards and shout slogans during a protest rally demanding reservation for their community. Photograph: PTI Photo
Their fathers vociferously opposed the implementation of Mandal Commission recommendations by the V P Singh government in 1989, arguing that the 27 per cent reservations for OBCs in government jobs and educational institutions would deprive meritorious Indians of their just rights.
Two decades later their children are fighting, with similar aggression, to procure the benefits of the very quota their fathers once opposed.
"Patel. Akshay," a 21-year-old Class XII pass youth introduces himself, a la James Bond's signature style.
Five of the six Patels with whom this correspondent spoke at the Gujarat Mineral Development Corporation ground, the venue of the massive rally on Tuesday, introduced themselves with their last name first, emphasising a new-found identity bound together in a common cause.
When Akshay applied to study medicine at a prestigious medical college in Gujarat in 2013, he failed to secure admission because he missed the merit list for the open category by a mere two marks.
Those who scored lower than him, though, rode the reservation train into the college.
Two years later, Akshay, egged on by a spontaneous movement demanding the inclusion of the Patel community into the OBC category, finds himself supporting the very system he once opposed.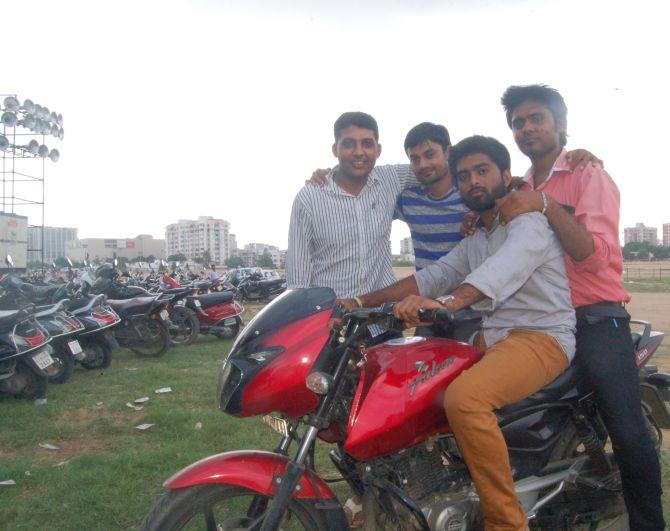 Akshay Patel rode pillion with his friend to the GMDC ground a day before the agitation called by the Patidar Anamat Andolan Samiti in Ahmedabad; Dr Pradip Patel is second from left. Photograph: Prasanna Zore/ Rediff.com
"Sabko unka haq milna chahiye; hum bhi apne haq ke liye lad rahe hain (Everybody is entitled to what is rightfully theirs; we too are demanding our rights)," Akshay says determinedly. He isn't apologetic about the change in his approach to reservations.
"So what if my father once opposed the quota system, I think the Patel community will benefit hugely by getting the OBC status. That was in the past, times have changed," Akshay says, highlighting the fact that those in the OBC category have begun to expand their sphere of influence in social and economic activities, which was once dominated by the Patel community.
Like Akshay, his friend Dr Pradip Patel, who introduced himself as 'Patel, Dilip', resents the fact that he paid over Rs 2 lakh as tuition fees to study medicine.
"If the Patels were also accorded OBC status, I wouldn't have faced financial hardships," he says, referring to the amount that he paid every year over four years to become a doctor.
More than six scores of young Patels who had gathered at the GMDC grounds, where the Patel Anamat Andolan Samiti has organised a show of strength to pressurise the Gujarat government to accept their demand for OBC status on Tuesday, strongly believe that the Patels too are economically backward and 80 per cent of the 1.22 crore strong community, which forms roughly 14 per cent of Gujarat's population, belongs to the economically non-creamy layer section and hence can benefit from its inclusion in the OBC category.
Asked if their family's annual income was less than the requisite Rs 6.5 lakh per annum to qualify as economically backward, almost all of them said yes.
"The impression that the entire Patel community of Gujarat is very rich and hence does not need reservations is false," says Chintan Patel, who has a diploma in mechanical engineering from the prestigious Lalbhai Dalpatbhai Engineering College in Ahmedabad.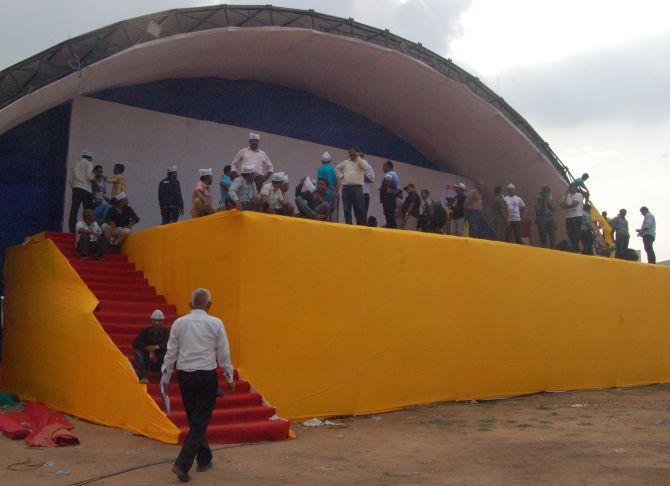 The stage being set for the PAAS agitation. Photograph: Prasanna Zore/ Rediff.com
Like Akshay, Fenil Patel, 18, also had to make do with studying BSc in nursing instead of medicine.
"I secured the BSc admission only after paying a donation of Rs 2.5 lakh," he says. Asked how a person who has the capacity to pay Rs 2.5 lakh as donation money can belong to the non-creamy layer, Fenil explains, "We borrowed the money from friends and family. If I were to belong to the OBC category, my family would have saved this money because then I would have gotten admission into a medical college based on the reservation for OBCs without paying any donation at all."
Sahil Patel, who is studying medicine, rants that it is just not in government-run educational institutions but also in government jobs that the Patels' share is far less than dominant OBC castes like the Thakores and Chaudhris.
"We are not demanding that others should not get jobs and admissions in government institutions. We are only fighting for getting the same right by making Patels as OBCs," he says.
Nimesh Patel introduces himself by his first name preceded by his last name (the only one among all those cited here).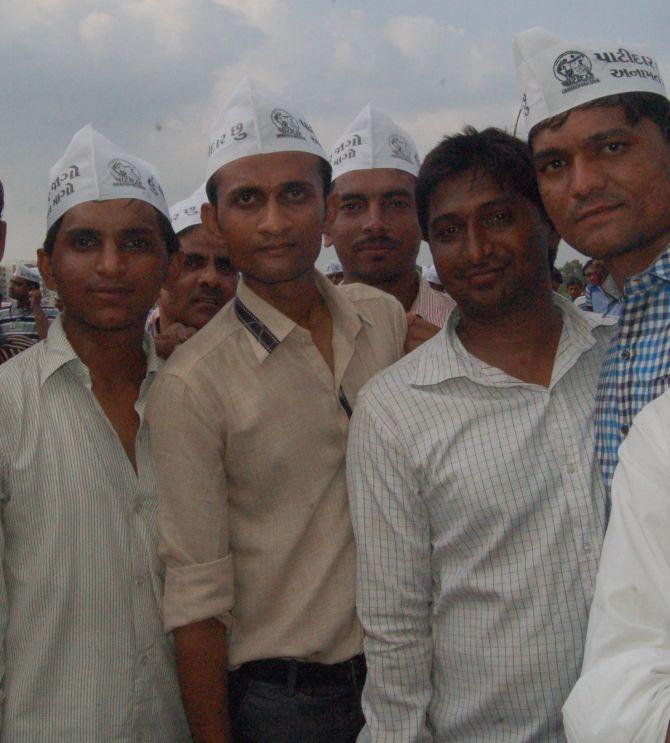 Members of the Patidar or Patel community stand together at the site of the rally. Photograph: Prasanna Zore
Hailing from Mehsana, Nimesh, 29, is an MBA in marketing and is the most vocal about his opposition to former Gujarat chief minister Narendra Modi and the incumbent Anandiben Patel.
He drove almost 100 km from Mehsana on his bike to reach the venue and be a part of a mass movement "that will shake the roots of this BJP government in Gujarat," he says.
"Why did Modi accord minority status to Jains?" he asks. "Was there any agitation by Jains or street protests that he had to buckle under pressure from them?" he asks. "If Jains get the status of 'minorities' without moving a leaf, can't we get OBC status on the basis of our numeric strength?"
"If they can't give us our just rights we will snatch it from the government," Nimesh says, even predicting that the BJP will lose the support of Patels, its traditional voters, if the Gujarat government doesn't take cognisance of their movement.
"Arre, kisi ko itna bhi mat jhukao ki woh ya toh toot jaye, ya saamnewale ko todne pe majboor ho jaye (don't suppress somebody so much that the other person either breaks down or is left with no option but to retaliate)," says Nimesh.