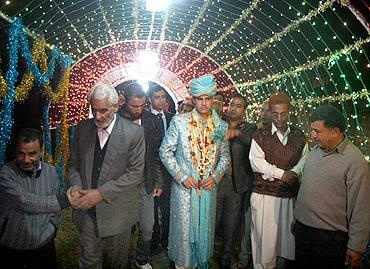 The ongoing unrest in Kashmir, which has so far claimed 111 lives since June 11, has cast its shadow over the wedding season in the Valley.
 
Kashmiri marriages, known for their extravagance and boisterousness, became a low key affair this year. The Wazwan, an elaborate feast of 35 items served during weddings, was trimmed to include only a few dishes.
 
The multi-million rupee marriage industry in Kashmir faced a huge slump this year, with the suppliers of mutton and professional chefs known as 'Wazas' suffering the worst impact.
 
Relentless protest shutdowns and curfews have also turned the mood of the marriage somber.
 
In fact, the parents of the groom and the bride often had a hard time finalising a date for the marriage, as they were unsure about what the atmosphere would be like on the appointed date.
 
The authorities had been advising the families to contact the local policemen in charge of their respective areas to ensure that such ceremonies are conducted smoothly. But practical difficulties forced people to tone down the marriage ceremonies.
 
Many people have postponed marriages in the family, waiting for the time when the situation returns to normal. Most locals are hopeful that Kashmiri marriages will go back to their extravagant ways once the situation in the valley improves.
  
"We invited only a handful of our close relatives last week instead of the original list of 700 guests because of the prevailing situation. We are at least happy that the ceremony went off peacefully without any hiccups," said Mohammad Ayub, whose brother got married in Srinagar last week.
 
"We had a difficult time in organising the ceremony as the old city remains under curfew even when it is lifted from other areas of the Valley," Ayub said.
Image: A groom arrives for a traditional Kashmiri wedding | Photograph: Umar Ganie