French sources say Hollande was motivated to speak out after an Indian media report revealed that the Reliance Group had part-funded a film venture by his domestic partner, French actress Julie Gayet.
Ajai Shukla reports.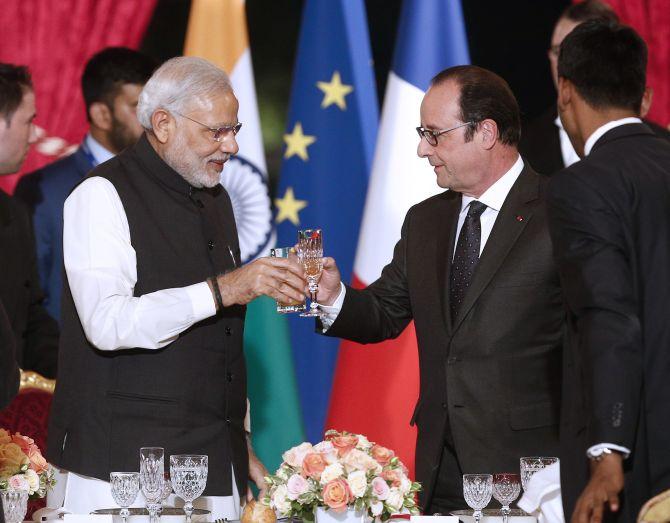 The government's repeated denials that Anil Ambani's Reliance Group got special favours in the purchase of 36 Rafale fighters were on Friday challenged, with former French president François Hollande revealing that New Delhi nominated Ambani as the Indian offset partner.
Hollande was the French president in April 2015 who hosted Prime Minister Narendra Damodardas Modi in Paris when the latter publicly announced his decision to buy 36 Rafales from Dassault in 'flyaway' condition.
The Rafale deal has come under concerted attack from the Opposition, which has charged the government with paying an inflated price, with endangering national security by cancelling an on-going tender for 126 Rafales, and with facilitating the selection of The Reliance Group as a partner for Dassault.
Asked by the French news Web site Mediapart, 'Who selected Reliance as a partner and why?' Hollande responded: 'We did not have a say on this subject.'
'It was the Indian government who proposed this service group (The Reliance Group), and Dassault who negotiated with Ambani. We did not have a choice, we took the interlocutor who was given to us,' Hollande said.
The Bharatiya Janata Party's defenders of the Rafale deal, notably Defence Minister Nirmala Sitharaman, have repeatedly rejected Opposition charges of 'crony capitalism' to favour Ambani.
They have claimed that in accordance with the Defence Procurement Procedure Dassault chose the Indian offset partner of its own choice.
On Friday, with Sitharaman unavailable to comment, her spokesperson tweeted: 'The report referring to (former) French president Mr Hollande's statement that GoI (Government of India) insisted upon a particular firm as an offset partner for the Dassault Aviation in Rafale is being verified. It is reiterated that neither GoI nor the French government had any say in the commercial decision.'
While all 36 Rafale fighters are being manufactured in France, an offset requirement, which is a part of an all-Indian defence procurement worth more than Rs 2 trillion, requires French companies that build the Rafale -- Dassault, Thales and Safran -- to plough back 50 per cent of the contract value into Indian defence production.
That means offsets arising from the €7.8 billion contract for 36 Rafale fighters require the French vendors to plough back €3.9 billion worth of business into the Indian defence industry.
To benefit from offsets business, The Reliance Group formed a joint venture with Dassault, called Dassault Reliance Aerospace Ltd, DRAL.
While the Congress has charged DRAL with cornering the bulk of the Rafale-linked offsets, The Reliance Group has said it benefited only from €778 million worth of business.
So far the French government, which has enormous economic and strategic stakes in letting the Rafale purchase go through smoothly, has remained silent on the Indian government's 'nomination' of DRAL as a key offset partner.
However, French sources say Hollande, who Emmanuel Macron succeeded as president in May 2017, was motivated to speak out after an Indian media report revealed that the Reliance Group had part-funded a film venture by his domestic partner, French actress Julie Gayet.
Hollande wanted to make clear there was no quid pro quo with Ambani.
'This group (The Reliance Group) did not have to give me any thanks for anything, I could not even imagine that there was any connection to a film by Julie Gayet,' Hollande said in the interview.
The Reliance Group has declined comment.