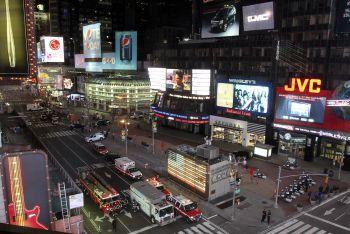 Under the flashing JumboTrons of Times Square, visitors can find the quintessential New York: energetic, full of life, quick-moving, and defining the most progressive side of America. Any attack on Times Square is an attack not just on the economic and military juggernaut that the US represents, but also an America of fun, wonder and joie de vivre. And, according to P Rajendran, that is why New York is repeatedly targetted.
Times Square is perhaps more central to the idea of New York than perhaps the World Trade Center buildings destroyed in the 9/11 attacks were.
The WTC were buildings people appreciated from afar, but Times Square, nestled midtown in the V formed where Broadway, slapped diagonally across Manhattan, intersects the near vertical 7th Avenue, is what people see as quintessentially New York, and the liberal essence of America -- bright, impressive, a little over the top while not being gaudily so.
Lit up by flashing cameras, and an excess of illuminated signs, including JumboTrons slapped vertically down buildings at both ends of the square, it is home to a variety of brightly lit stores, clubs, eateries and media outlets. And there is the occasional Texan in barely legal minimal clothing willing to pose with bemused tourists for photographs.
Travel and news shows focusing on America have to pay homage here, whatever
else they may gloss over in the country. And now that the square's new pedestrian plazas are strewn with metal chairs for visitors to sit, gawk and photograph New York on the move, it has become, if anything, even more of a tourist trap.
Times Square has already been subject to one bomb attack earlier, on March 6, 2008. But that  low order explosive  did little damage and was most likely a statement in response to the bomber s objection to the way the war in Iraq was being conducted.
The current attempt, though also crude, appears to have more serious intent, with potentially fatal consequences had it worked. The current effort was not just an attack on America the powerful, but on all that which is most vibrant and open about it.
Image: The flashy Times Square, aptly described as the Crossroads of the World.
Photograph: Reuters