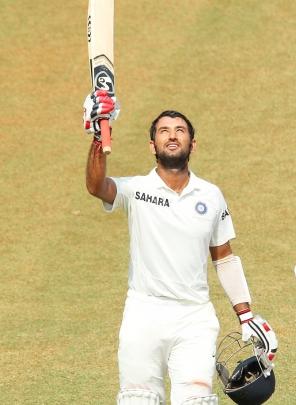 The promising cricketer has been appointed the Gujarat Election Commission's brand ambassador, reports Haresh Pandya
Cricketer Cheteshwar Pujara has been appointed the brand ambassador of Gujarat by the Election Commission to encourage more voters, particularly youngsters, to exercise their franchise in the forthcoming Lok Sabha polls.
"I am happy to announce that the state Election Commission has made Cheteshwar Pujara its brand ambassador," declared Rajkot District Collector Rajendra Kumar on Thursday at a media conference.
"He is young, famous and popular. He is known for his discipline, integrity and sense of duty towards his country as he has been an integral part of India's cricket team for the several years. He has a very clean image and has always steered himself clear of controversies. There can't be a better role model for youngsters. I am sure his appeal will go a long way towards attracting a large number of young voters in particular during the ensuing parliamentary elections," said Kumar.
Asked whether the authorities were apprehensive about Pujara refusing their offer due to his grueling cricket schedule, Kumar said there was a '50-50' chance of the cricketer replying in the affirmative.
Pujara, who landed in Rajkot on Thursday morning after completing India's disastrous tour of New Zealand, fielded a volley of questions with a straight bat.
"I was requested to be the state Election Commission's brand ambassador and there was no reason for me to refuse," said a smiling and confident Pujara, who was accompanied by his wife Puja.
"This is for a noble cause and I am happy that the Election Commission has chosen me to spread the message of awareness among young voters. I will lend my full support and cooperation to it in every possible way whenever I am free," he said.
"As citizens, we tend to talk a lot about the importance of votes in a democratic country like India. But, I am sorry to say, not many of us cast our votes in reality. This attitude must be changed. Youngsters are the future of India and they should not be negligent in exercising their franchise. Voting is very important. It helps to select a government and build a nation," said the cricketer.
Pujara also surprised many by admitting that he had never exercised his right to vote.
"It is not that I did not want to vote, I did. The problem was I was mostly busy playing outside Rajkot or traveling (when elections would be held). But I do look forward to casting my vote in the forthcoming Lok Sabha elections if, of course, I am in Rajkot. In fact, both my wife and I will cast our votes together," he quipped.
Asked whether he would meet potential voters himself and travel to rural areas to encourage voting, Pujara said he would have no problem doing so, provided he was not busy playing for the Indian team or a team outside Rajkot.
"But I understand I will be part of the Election Commission's campaign through television, radio and other electronic media," he said.
Kumar said that his team was planning to make the most of Pujara's star appeal to reach the masses.
"We will record his messages to voters, for both the audio and visual media, and consider how best we can utilise his services in other ways as well," said the officer.
Besides Pujara's wife, his father and coach Arvind Pujara was also present at the press conference.
"Cheteshwar and I want to sit together and discuss exactly what went wrong with him personally in New Zealand as it was the first time he couldn't make a notable contribution in a Test series. But he doesn't have time as he has to get busy preparing for the Asia Cup," said Pujara senior.