Delhi Chief Minister Arvind Kejriwal wrote to Prime Minister Narendra Modi on Tuesday requesting him to "not stop Delhi's budget", amid a row between the Centre and the Aam Aadmi Party dispensation in the national capital over the issue.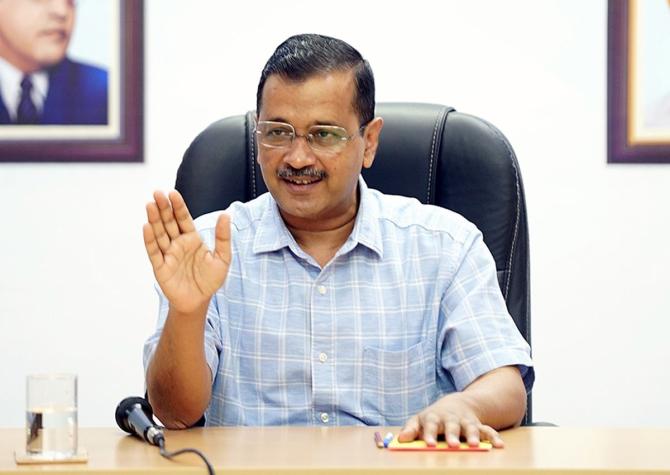 The presentation of the Delhi government's Budget for 2023-24, which was scheduled for Tuesday, has been put on hold with the Kejriwal dispensation and the central government trading charges over allocations under various heads.
Speaking at a News18 programme on Monday, Kejriwal charged that the Centre was resorting to "gundagardi" and said it was the first time in the country's history that the budget of a government was put on hold.
A video clip of his speech was tweeted by the Aam Aadmi Party.
Sources in the Delhi government said the Ministry of Home Affairs has stopped the budget and it will not be tabled in the assembly on Tuesday.
In his letter, Kejriwal said: "This is the first in the last 75 years that a state's budget has been stalled. Why are you upset with Delhiites? Please don't stall Delhi's budget. With folded hands, Delhiites urge you to pass their budget."
As the chief minister lashed out at the Centre, sources in the MHA said the ministry has sought clarification from the AAP government as its budget proposal had high allocation for advertisement and relatively low funding for infrastructure and other development initiatives.
Addressing a press conference, AAP national spokesperson and Delhi minister Saurabh Bharadwaj said it was utterly "shameful" that the budget has been stopped.
"This is making a joke of us in front of the entire world. It is shameful that the Centre is stopping the budget of a small state," he said.
Bharadwaj said the MHA expressed some concerns on the Delhi government's budget and refused to grant its approval in a letter sent to the chief secretary on March 17.
"He sat on it for three days. This is bigger than any anti-national activity. This should be investigated. The Centre is behind this conspiracy and the budget is being delayed at its behest," he alleged.
The senior AAP leader said the budget is a sacrosanct document and a secret exercise. "How can a 'babu' sitting at the Centre question the expenditure of the government," he asked.
Meanwhile, the BJP in Delhi slammed Kejriwal, accusing him of creating a row over the city government's budget for "cheap publicity" and to hide his own mistakes.
Addressing a press conference, working president of the Delhi BJP Virendra Sachdeva said Kejriwal was levelling allegations on the Centre and Prime Minister Narendra Modi to divert attention from the corruption charges faced by the city government.
"The Kejriwal government sat on the clarifications sought by the Ministry of Home Affairs for three days and then blamed the Centre for stopping the budget," Sachdeva said.