Those who know Alapan Bandyopadhyay describe him as measured, tactical and extremely focused on achieving what he sets out to do.
To many it came as a surprise that he would cut short a meeting with the prime minister.
Ishita Ayan Dutt reports.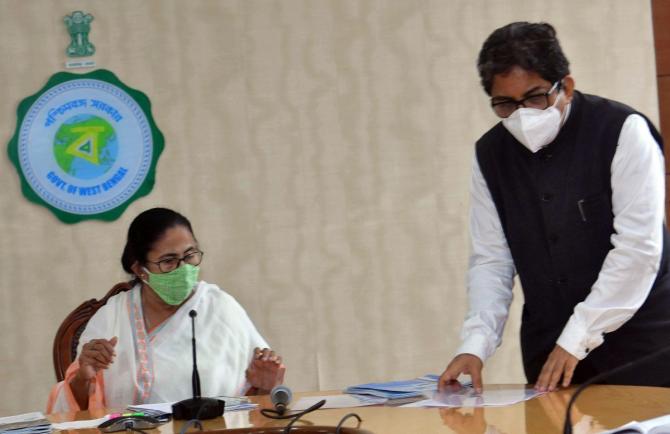 It was 4 am when West Bengal Chief Secretary Alapan Bandyopadhyay returned home from the crematorium after performing the last rites of his 56-year-old brother, Anjan Bandyopadhyay.
The popular television anchor and editor of the Bengali news channel, Zee 24 Ghanta, succumbed to Covid-related complications on May 16, weeks after he had recovered and was discharged from hospital.
The siblings from Balijuri village, Asansol, in the Bardhaman district of West Bengal, were about four years apart. But the tragedy did not deter the bureaucrat brother from reporting at Nabanna, the state secretariat, the next morning. With COVID-19 cases mounting at that point, personal grief could, well, wait.
On May 26, Cyclone Yaas barrelled into West Bengal, washing away houses and embankments. It weakened after making landfall -- but not before precipitating a political storm with Bandyopadhyay in the eye of it.
At the heart of the controversy is a review meeting by Prime Minister Narendra Modi at the Kalaikunda air force station. He was on a visit to West Bengal and Odisha to take stock of the damage caused by the cyclone.
The sequence of events went something like this: Banerjee and Bandyopadhyay arrived late for the review meeting and left immediately after. Hours later, the central government directed Bandyopadhyay to report to the department of personnel and training on May 31 -- his previously scheduled date of retirement -- even though he had been granted an extension for three months on May 24 to help the chief minister cope with the COVID-19 second wave.
Bandyopadhyay did not go to Delhi. Instead, the 1987-batch IAS officer of the West Bengal cadre, opted for retirement on May 31 and was appointed chief advisor to the chief minister for three years, within hours.
The ministry of home affairs then sent him a show cause notice under the Disaster Management Act for abstaining from the review meeting by the prime minister, who is the chairman of the National Disaster Management Authority.
Bandyopadhyay replied to the notice on Thursday, saying that he had not 'abstained' and left the meeting on instructions of Mamata Banerjee to whom he reported as chief secretary.
That is a developing story, but there is no doubt that the chief minister has Bandyopadhyay's back.
Ever combative to challenges from the Centre, she recently said the state government would extend full support to whatever happens to him from here on. In the last few days, the former chief secretary even earned her praise for being 'bold', 'honest' and 'sincere', among other complimentary adjectives.
There is a good reason for such unflinching support. Ahead of the assembly polls, the state government had launched a massive outreach programme called 'Duare Sarkar' for doorstep delivery of welfare schemes. Bandyopadhyay is largely credited for its successful implementation.
"He would do regular video conferences to track the progress of the scheme," said a state government official.
Citing an example, the official said, after the state cabinet gave its nod to the Rajya Purohit Kalyan Prokolpo -- a scheme under which a monthly allowance of Rs 1,000 and free housing is allotted to 8,000 Sanatan Brahmin priests -- Bandyopadhyay ensured the disbursal of the allowance within three days before it could be tangled in legal knots.
But Bandyopadhyay is not just Banerjee's blue-eyed bureaucrat -- he was a favourite of her Left Front predecessor Buddhadeb Bhattacharjee, too.
The former chief minister, who would revel in the company of good books and films, penning plays and translating world literature, would often refer to him as 'Bengal's pride'.
As district magistrate, he had accompanied Bhattacharjee on his first official visit as CM to remote villages of South 24 Parganas on a rickshaw-van to survey vandalism by dacoits.
It is not particularly difficult to fathom Buddhadeb Bhattacharjee's affection for this bureaucrat. A meritorious student all along, who went to Narendrapur Ramakrishna Mission and then Presidency College, Bandyopadhyay's penchant for the Bengali language -- evident in the touching tribute he wrote to his younger brother in a local language publication recently -- is beyond question.
He embodied the qualities of a bhalo chele (good boy) in his college days -- articulate, well-read and, of course, a good student. "He was a name from the time he roamed around College Street," recalled one of his college mates.
Before cracking the civil service exam, Bandyopadhyay had a short stint as a journalist at the Anandabazar Patrika.
Married to the daughter of famous Bengali poet and litterateur Nirendranath Chakraborty, he is known to take a keen interest in Bengali culture and history. But his love for all things Bengal and Bengali isn't limited to that. In 2017, he penned Amlar Mon (The Mind of a Bureaucrat), a chronicle of evolution of civil servants in Bengal.
Those who know Bandyopadhyay also describe him as measured, tactical and extremely focused on achieving what he sets out to do. To many it came as a surprise that he would cut short a meeting with the prime minister.
Whether it was a slip-up or tactical retreat is yet to be seen.