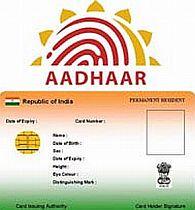 If you are a Kashmiri or a resident of any of the north eastern states, securing an Aadhar card is just about get more difficult.
That's because the Intelligence Bureau has in a report to the government suggested a re-think while issuing the cards on a blanket basis.

The IB has also sought to run background checks of those working at the Unique Identification Authority of India centres, especially in militancy-hit Jammu and Kashmir and insurgency-hit north-eastern states.
The agency report states, 'We would like to run background checks of those issuing the cards or working with the UIDAI.'

An IB source told rediff.com, "These are troubled states with a lot of problem relating to terrorists. There has to be a background check and thorough scrutiny at least in these states before a card is issued."

"These are very important proposals and need to be considered and implemented before the process is complete. Extra precaution needs to be taken," the source said.
The IB has raised several other points with the government.

The IB states that issuing the Aadhar card to an NRI or a foreign citizen living in India must be scrutinised on the lines of the National Population Register.

Prior to addition to the NPR, a government official visits and verifies the residence of the NRI or the foreign citizen living in India. The IB feels that a similar process must be followed for Aadhar enrolment too.

The intelligence bureau in its report to the Home Ministry also stated that unless and until the process followed under the NPR is implemented, the Aadhar card should not be treated as a residence proof.

The home ministry is studying these recommendations and is expected to take a call on the matter soon