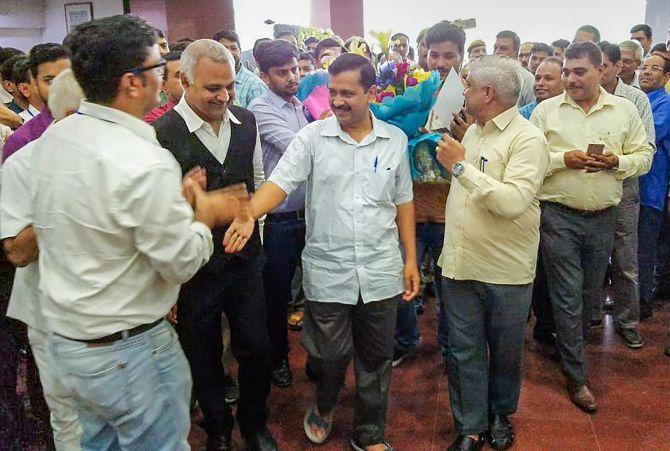 Who is the boss? Delhi chief ministers down the years have often pondered the question while facing disagreements with lieutenant governors, but never has the tension spiralled into a confrontation of the magnitude witnessed after the Aam Aadmi Party came to power in 2015.
A series of ugly spats and subsequent showdowns involving the AAP-led government and the lieutenant governor's office finally landed at the Delhi high court and later reached the Supreme Court which which on Wednesday handed a major victory to Chief Minister Arvind Kejriwal.
At the core of the issue is the national capital's unique status of a Union Territory that is administered by both the Centre and the government of the National Capital Territory of Delhi.
Kejriwal's predecessors have had their share of disagreements with the Centre and the office of the L-G, but this is at a different level, said old-timers.
Sheila Dikshit, who was the chief minister of Delhi for 15 years, said her government may have had differences with the L-G, but there was never any 'tussle'.
"When differences came out, after talking to each other we sorted out those differences," the Congress leader, who was chief minister from 1998-2013, told PTI.
She expressed the hope that Delhi would finally witness some developmental work after the apex court verdict.
However, the Centre, many analysts feel, has traditionally had an upper hand in the administration as matters such as land and law and order are under the L-G.
The Supreme Court clarified on Wednesday that except for three issues -- public order, police and land -- the Delhi government has the power to legislate and govern on other issues.
The genesis of the standoff between the AAP government and the Centre is the 2015 notification issued by the Union home ministry.
The May 2015 notification superseded the one issued in 1998, which had made it mandatory for the LG to consult the chief minister, not only on reserved subjects of police, public order and land but also for services.
In the gazette notification issued in 2015, the Home Ministry changed this, saying the L-G will have jurisdiction over matters connected with services, public order, police and land and he may consult the chief minister whenever he thinks necessary in issues of services using his own 'discretion'.
The AAP, which had been at loggerheads with Lt Governor Anil Baijal over several issues, found itself in a difficult situation as it came to power on the promise of bringing about radical changes, but this was not possible after being hamstrung by the notification.
The AAP government then challenged the notification in the Delhi high court, which held the validity of the Modi government's decision in 2016.
The Kejriwal government appealed against the Delhi high court judgment in the Supreme Court.
Dikshit said she and other chief ministers also had their share of differences with the L-G's office during their tenure but the issues were settled through dialogue and political sagacity, indicating that Kejriwal has been adopting an attitude of confrontation.
The battle to establish 'who is the boss' has often turned ugly as seen with the alleged assault on Chief Secretary Anshu Prakash in February for which two AAP lawmakers were booked.
The current standoff is different because of AAP's 'firebrand' approach, but tiffs between the chief minister and the Centre and the L-G are not new to Delhi, said former Congress MLA Mukesh Sharma.
It all started with Delhi's first chief minister Chaudhury Brahm Prakash, who was hand-picked by then prime minister Jawaharlal Nehru in 1952, but the two later fell out. In 1955, Parkash was forced to resign and Gurumukh Nihal Singh was sworn in as chief minister.
On the basis of the recommendations of the state Reorganisation Commission, Delhi ceased to exist as a state in 1956. The legislative assembly was abolished in 1956, after which direct federal control was implemented until it was re-established in 1993.
After the Assembly was reinstated, the BJP emerged victorious with Madan Lal Khurana becoming chief minister.
Khurana had differences with then LG P K Dave over the Delhi government's decision to set up a committee to probe the 1984 anti-Sikh riots in the city.
The unease between the two came to the fore on other issues as well with Dave calling a press conference during which he accused the then Bharatiya Janata Party government of making an announcement related to sales tax without his consent.
After Khurana, BJP's Sahib Singh Verma and Sushma Swaraj also had brief stints as chief ministers of Delhi.
"Differences between CMs and LGs had cropped up so many times in two-and-half decades. But they were resolved amicably," said Sharma.
Dikshit came to power in 1998 following the Home Ministry notification. She, too, had her share of differences with LGs, including Vijai Kapoor, B L Joshi and Tejender Khanna.
She clashed with Kapoor, an NDA appointee, over several issues such as the delay in clearing the government's proposal to hike land acquisition compensation to farmers.
Dikshit, later had her way and got the LG's nod for compensation rates hike for farmers in August 2001.
She also had differences with Joshi and Khanna over several issues.
Following is the chronology of events in the case in which the Supreme Court unanimously held that L-G does not have independent decision making powers.
It had started with lodging of a first information report in 2014 by the then Kejriwal regime against Reliance Industries Ltd (RIL), Mukesh Ambani and others including United Progressive Alliance ministers M Veerappa Moily and Murli Deora (since dead), accusing them of 'fixing' gas prices.
May 2, 2014: RIL moves HC for quashing of FIR and challenging a 1993 notification of the Centre giving power to Delhi government's Anti-Corruption Branch (ACB) to probe union government employees.
May 8: Centre moves HC opposing FIR against the ministers contending that ACB has no powers or jurisdiction to probe.
May 9: HC issues notice to Delhi government on the plea to quash FIR against the ministers. HC allowed ACB to continue with its probe.
May 20: HC asks Centre, RIL to cooperate with ACB probe.
Aug 9: ACB tells HC that it has powers to lodge FIR in gas pricing case.
Aug 19: ACB tells HC it cannot probe the gas pricing case against RIL and a former UPA minister as a July 23, 2014 notification of Centre has taken away its jurisdiction to
investigate central government employees.
Oct 16: Delhi government tells HC its ACB can prosecute RIL and ministers.
Oct 28: HC gives time to Centre to clarify on ACB's powers.
Dec 4 : RIL argues in HC that State probing Centre's decision on gas pricing is absurd.
May 25, 2015: HC says ACB has jurisdiction to arrest policemen who come under Centre. It says the Centre's May 21 notification limiting ACB's powers was "suspect".
May 26: PIL in HC against Centre's May 21 notification giving powers to L-G to appoint bureaucrats in Delhi.
May 28: Delhi government moves HC on Centre's notification on L-G's powers. Centre moves SC against HC's May 25 order terming as 'suspect' its notification.
May 29: HC asks L-G to consider Delhi government's proposals on shifting of nine bureaucrats from one post to another.
Jun 10: HC refuses to stay MHA notification on ACB power.
Jun 27: Delhi government moves HC to restrain LG appointee ACB chief M K Meena from entering anti-graft body's office.
Jan 27, 2016: Union government tells HC that Delhi is under Centre's control and not full-fledged state.
Apr 5: AAP government asks HC to refer to larger bench petitions on powers of LG on the governance of Delhi.
Apr 6: Delhi government tells HC it was competent to set up a commission to probe allegations of corruption in awarding licence to conduct CNG fitness tests.
Apr 19: AAP government withdraws from SC its plea seeking setting up of a larger bench in HC.
May 24: HC reserves order on AAP government's plea for a stay on proceedings on the petitions arising out of its stand-off with LG over powers to appoint bureaucrats in the
national capital and other issues.
May 30: HC turns down AAP government's request to first decide its stay application.
Jul 1: SC agrees to hear AAP government's plea seeking a direction that HC be restrained from delivering judgment on issues, including the scope of powers of the city government to exercise its authority in performing public functions.
Jul 4: Justice J S Khehar of SC recuses from hearing AAP govt's plea on declaration of powers of Delhi as a state.
Jul 5: Justice L Nageshwar Rao of SC also recuses from hearing Delhi government's plea.
Jul 8: SC refuses to entertain Delhi government plea to first decide the preliminary issue as to whether it has the jurisdiction over disputes between the Centre and the state or
is it 'exclusively' triable by the apex court.
Aug 4: HC says L-G is administrative head of National Capital Territory and AAP government's contention that he is bound to act on the advice of Council of Ministers was
'without substance'.
Feb 15, 2017: SC refers to constitution bench the pleas on Delhi-Centre row over governance.
Nov 2: Constitution bench of SC commences hearing.
Nov 8: SC observes that responsibilities conferred upon L-G are not absolute.
Nov 14: SC raises a question if constitutional scheme on division of executive powers between the Centre and the states can be made applicable to the union territory of Delhi.
Nov 21: Centre opposes AAP government's submissions in the SC, says Delhi has been accorded 'special status' among union territories but that does not make it a state.
Dec 6 : SC reserves judgment on a batch of pleas on Delhi-Centre power tussle after hearing arguments for 15 days.
Jul 4, 2018: SC says L-G does not have independent decision making powers, and is bound to act on the aid and advice of the Council of Ministers.