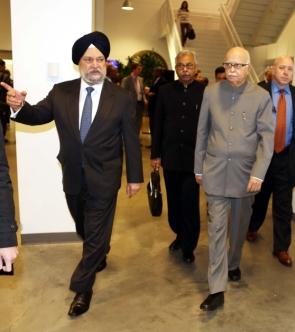 Ambitious diplomats continue to be attracted to politics but do they make good politicians, asks Jyoti Malhotra
Hardeep Singh Puri is only the latest eminent diplomat to fall for the attraction of politics -- and small wonder.
The chance of playing a role that is instrumental in changing your nation's international destiny, to represent your country abroad, to fly the flag and even to hoist it.
While all of the above is also the brief of an ambassador of India, there are those who believe they can make a much bigger difference if they are on the other side of the desk -- in the real seat of power.
The question is, do diplomats make good politicians? Certainly, Puri is only the latest in a list of highly accomplished players.
Pavan Varma, who retired as ambassador of Bhutan a couple of years ago, subsequently joined Nitish Kumar's Janata Dal (United) as an adviser on cultural affairs.
It is believed that M K Bhadra Kumar, a tough nut to crack when he was joint secretary in charge of Pakistan in the early 90s -- and the formidable J N Dikshit was the foreign secretary -- would have liked to stand from Thiruvananthapuram in the 2009 election on a Communist Party of India (Marxist) ticket; certainly, if that had happened, he would have given Shashi Tharoor, an international diplomat who came home to newer pastures and won from Kerala's capital seat, a run for his money.
Perhaps the most influential diplomat-turned-politician was Brajesh Mishra who quit the service when Indira Gandhi disagreed with his articulated position on the invasion of Afghanistan by the Soviet Union in 1979, and who became Atal Bihari Vajpayee's National Security Advisor when the Bharatiya Janata Party came to power in 1998.
Those years it was clear that Mishra was one of the triumvirate alongside Vajpayee and Jaswant Singh; from Pakistan to Kashmir to Bangladesh to setting up the nuclear deal with the United States, Mishra clearly ran the show, often to the irritation of the BJP itself.
Both K Natwar Singh and Mani Shankar Aiyar have been less powerful, although equally flamboyant. Singh served Indira Gandhi as a diplomat and joined the party in 1984 after her assassination, while Aiyar came into the fold in 1991 in the wake of Rajiv Gandhi's own death.
Both competed for the spotlight in Manmohan Singh's first Cabinet, Singh as foreign minister and Aiyar as petroleum minister.
Unfortunately, the family loyalist was a victim of the "putramoh" or "son-love", a catchy enough disease that afflicts you despite being born into relative wealth and educated in reputed universities in Delhi, Cambridge and Beijing; since foreign minister Singh had to resign because his son, Jagat, was named in the United Nations oil-for-food scandal in Iraq.
As for Aiyar, he fell in and out of Sonia Gandhi's favour over the years but shook up the ministry for petroleum & natural gas from 2004 to 2006, from where he was summarily removed, and not because of incompetence.
Certainly, all the diplomats and other officials who have joined or want to join the BJP are hoping to be the next Brajesh Mishra.
Like Puri, who made it clear when he was in the foreign service that he preferred the muscular style, there are strong rumours that the former head of the Intelligence Bureau, Ajit Doval, is also interested in serving the party.
If the BJP comes to power, both will be contestants for the national security advisor's job;
I would put my money on Hardeep Puri. In fact, several former officials attached to the Vivekananda Institute think-tank in the capital want to offer their expertise in running India.
Even the Aam Aadmi Party is now finding takers, especially those once employed in the intelligence services who know a thing or two about corruption, both moral and financial.
Puri, whose friendship with Akhil Bharatiya Vidyarthi Parishad activist-turned-BJP leader Arun Jaitely has stood the test of time since both were at Delhi University during the Emergency years, was not made foreign secretary when his turn came in 2011.
A highly competent man, he was instead given the complimentary prize, a posting as India's permanent representative to the United Nations in New York, where he stood at the crossroads of the world and got to know everybody.
Varma, on the other hand, posted in less flamboyant places such as Moscow, Cyprus and Thimphu, let his understanding of culture and politics do the talking.
From his perch in Bhutan, Varma saw the need for a much more integrated South Asia in which small and big countries play their requisite role, but also the importance of connecting contiguous regions between India and its neighbourhood.
As culture adviser to Nitish Kumar, Varma has made it known that he would prefer to focus on championing Bihar's incredible potential -- just streamlining Bodh Gaya, for example, for Indian and foreign pilgrims could make Bihar the hub of Buddhist spokes across South-East Asia.
Certainly, as Indian politics overhauls itself, there is no better time for infusing it with people of all political colours and interests. The problem is, former diplomats-turned-politicians may sometimes feel they know better than the sons and daughters of the soil who have made it to the top in different ways.
Several of these former officials have been quite powerful anyway -- in fact, the problem is that several elected representatives have abdicated their jobs of ruling India to the bureaucracy.
From the Maldives to Pakistan to Nepal to the Devyani Khobragade case, foreign ministers have refused to make political decisions, to the detriment of India's national interest.
Last heard, Puri was complaining about the Congress party's cave-in to Pakistan under the Manmohan Singh regime. But Puri should know that in the hot seat things begin to look different.
In 2001, barely two years after Kargil, Vajpayee invited Pervez Musharraf to Agra, and Manmohan Singh hoped he could do the same on Kashmir.
The bigger problem is that the multi-partisan understanding on India's foreign policy has fractured in the wake of divisive domestic politics. The entry of a former diplomat into the fray cannot fundamentally change that.
Image: Hardeep Singh Puri with BJP leader L K Advani