Just 10 days after being announced as the White House Communications Director Anthony Scaramucci resigned on Monday, and just hours after new Chief of Staff John Kelly was sworn into office.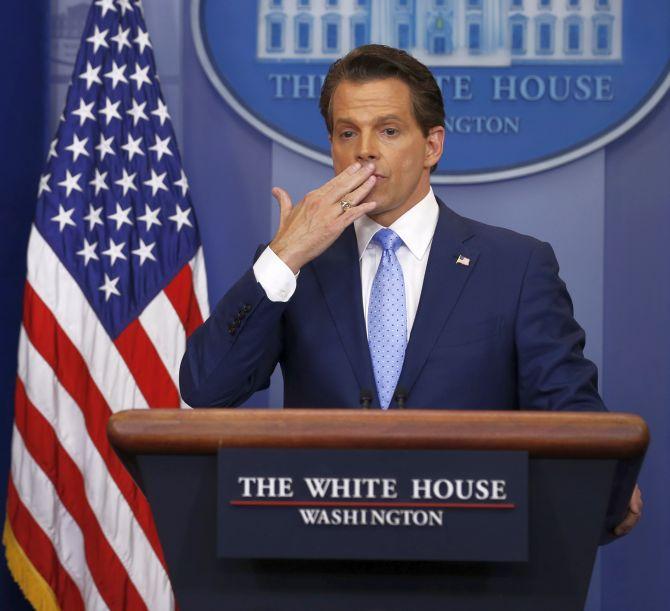 IMAGE: White House Communications Director Anthony Scaramucci had used unparliamentary language against his colleagues and threatened to fire everyone who leaked information.
Photograph: Johnathan Ernst/Reuters
"Anthony Scaramucci will be leaving his role as White House Communications Director," the White House Press Secretary, Sarah Sanders, said in a brief statement.
"Scaramucci felt it was best to give Chief of Staff John Kelly a clean slate and the ability to build his own team. We wish him all the best," Sanders said.
Scaramucci, 53, put in his papers just hours after General Kelly (retired) was sworn by Trump as the new White House Chief of Staff.
According to The New York Times, the decision to remove Scaramucci, "who had boasted about reporting directly to the president, not the chief of staff, John Kelly, came at Kelly's request."
Kelly, who was previously the Homeland Security Secretary, was picked for the new job by Trump on July 29, with the latter hoping the new chief of staff to bring some military order to an administration weighed down by a stalled legislative agenda, a cabal of infighting West Wing aides and a stack of investigations.
In an interview last week, Scaramucci had used unparliamentary language against his White House colleagues and threatened to fire everyone from the White House who leaked information.
"The President certainly felt that Anthony's comments were inappropriate for a person in that position. He didn't want to burden General Kelly also with that line of succession," White House Press Secretary Sarah Sanders told reporters at her daily news conference.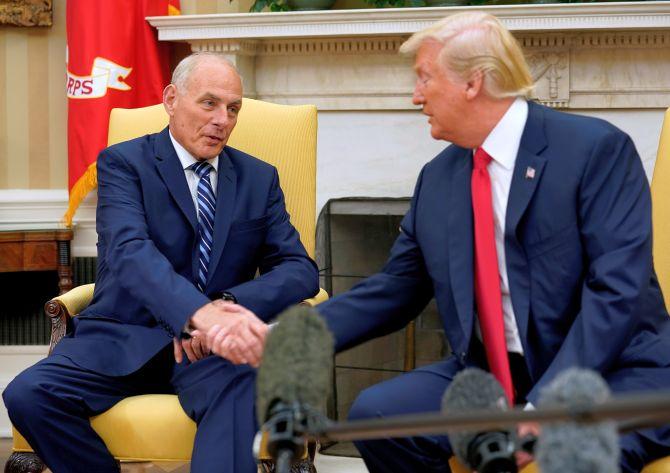 IMAGE: US. President Donald Trump shakes hands with John Kelly after he was sworn in as White House Chief of Staff in the Oval Office of the White House. Photograph: Joshua Roberts/Reuters
Kelly replaces Priebus, who as the Chairman of the Republican National Committee last year, had played a key role in Trump's electoral victory. Priebus was on the receiving end of Scaramucci's abuse before being fired by Trump.
Now everyone in the White House reports to Kelly, Sanders said.
"We've made clear a few times over the course of the last couple of days to several of you individually, but General Kelly has the full authority to operate within the White House, and all staff will report to him," she told reporters.
In the last 10 days, Trump has fired three of his top officials. It first began with his Press Secretary Sean Spicer, followed by Priebus and now Scaramucci, who probably has the shortest stint as the White House Director of Communications.
Sanders said Trump has given full authority to Kelly, and he'll make determinations inside the White House. "General Kelly I think will bring new structure to the White House and discipline and strength. We are all really excited to work with him," she said.
Responding to questions, Sanders said Scaramucci is no longer working at the White House.