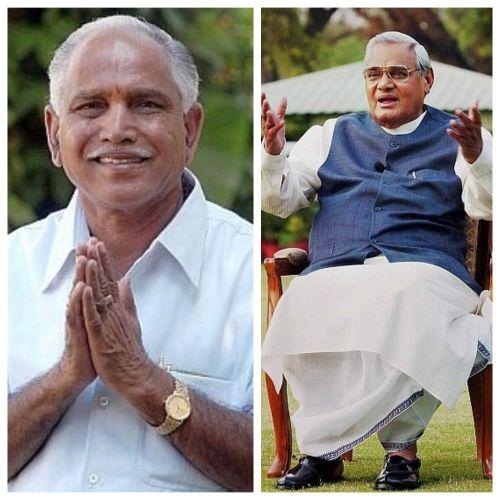 B S Yeddyurappa's stepping down as Karnataka chief minister without facing the trust vote was a stark reminder of Bharatiya Janata Party stalwart Atal Bihari Vajpayee resigning as prime minister 22 years ago.
Vajpayee had resigned just 13 days after being in power due to lack of numbers.
Twenty two years ago, Kumaraswamy's father and Janata Dal-Secular supremo H D Deve Gowda had become prime minister after the fall of the Atal Behari Vajpayee government.
Kumaraswamy is now set to head the Congress-JDS coalition government.
The May 12 Karnataka assembly elections threw up a hung assembly, giving the maximum of 104 seats to BJP, followed by Congress, which got 78. JD-S secured 37 seats, while two independents got elected.
Just like Yeddyurappa led BJP, the BJP in 1996 too secured the maximum seats and emerged as the single largest party, but was short of a majority.
Anticipating public sympathy in the long run, the BJP statesman moved the vote of confidence and after a riveting speech, announced he would resign without waiting for voting.
Vajpayee's words still echo: "I am going to tender my resignation to the President of India."
On Saturday, Yeddyurappa too moved the vote of confidence and expected support from legislators in the opposition, hoping to split their ranks.
However, failing to shore up numbers, he announced his resignation after delivering an emotional speech.
He too did not wait for voting to take place.
"I'm not pressing this motion of confidence, and I will resign. I will directly go to Governor and submit my resignation as chief minister," said Yeddyurappa.