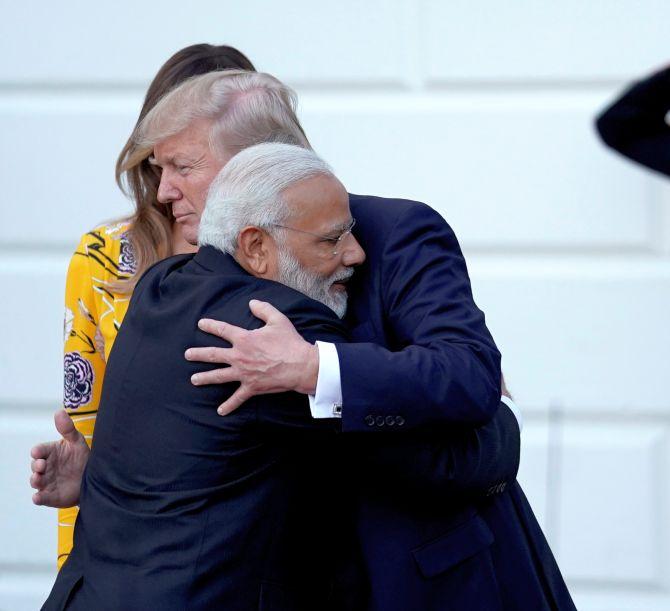 United States President Donald Trump allegedly joked he could play matchmaker for Prime Minister Narendra Modi after his aides told him that Modi has been estranged from his wife for several years, according to report in Politico.
Trump made the joke ahead of his meeting with Modi at the White House last year. After the US President's staffers told him that Modi would not be bringing his wife to the meeting, he allegedly joked, "Ah, I think I can set him up with somebody," the report quoted "two people briefed on the meeting" as saying.
The report in Politico also spoke about Trump's lack of familiarity with South Asia.
The report states that during the same meeting about Modi's visit to the White House, the US president appeared confused by Nepal, which he called 'Nipple', and Bhutan – which he called button, which lie sandwiched between India and China.
"He didn't know what those were. He thought it was all part of India," a person familiar with the meeting was quoted as saying, adding, "He was like, 'What is this stuff in between and these other countries?'"
Trump's joke about playing matchmaker is not the first he has made at Modi's expense. According to a report in the Washington Post, he often used an Indian accent to imitate Modi in his conversations about US policy in Afghanistan.
"Senior administration officials said that the president has been known to affect an Indian accent and imitate Indian Prime Minister Narendra Modi," the Post had reported.
The report also spoke of his aides also have trouble explaining the concept of time zones, as the POTUS often expresses a desire to call foreign world leaders when it's the middle of the night in their respective countries. He also has a bizarre fascination of calling world leaders without any real reason and just wanted to talk to him constantly.
Defending the US president, White House spokeswoman Sarah Huckabee Sanders told Politico that Trump has developed "strong relationships" with "America's closest allies," which allow for "candid conversations."