On Thursday, 717 Muslims died and 805 were injured in a deadly stampede during the ongoing Hajj pilgrimage in Mecca. The mishap took place Mina during the 'stoning of the devil ceremony'.
However, this is not the first time that such an incident has taken place. In the past too, the hajj has been marred by accidents and tragedies.
Here's a look at some deadly hajj-related incidents in the recent past.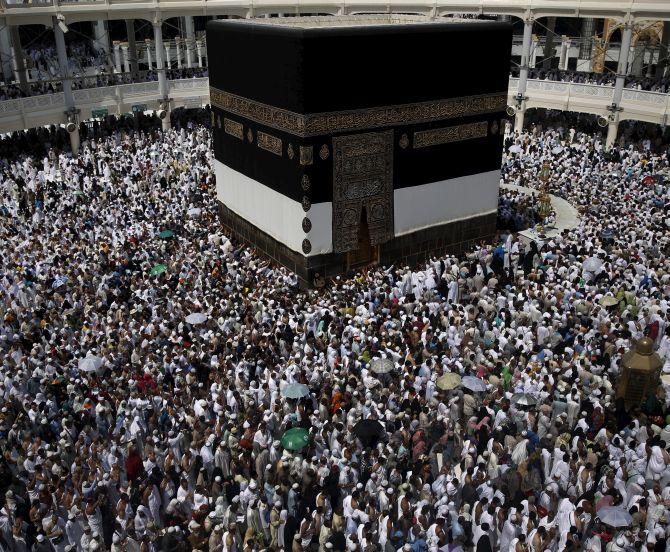 Muslim pilgrims pray around the holy Kaaba at the Grand Mosque ahead of the annual haj pilgrimage in Mecca. Photograph: Ahmad Masood/Reuters
>> September 11, 2015
At least 107 people were killed and scores wounded when a crane collapsed in bad weather, crashing onto the Grand Mosque in Mecca, Islam's holiest site.
>> January, 2006
A stampede during the stoning of the Devil on the last day of the Hajj in Mina killed at least 346 pilgrims and injured at least 289 more. The incident occurred when a busload of travellers arrived together at the eastern access ramps to the JamaratBridge.
This caused pilgrims to trip, rapidly resulting in a lethal crush. An estimated two million people were performing the ritual at the time.
>> February, 2004
Over 250 pilgrims were killed and another 244 injured in a stampede during the stoning ritual in Mina.
>> March, 2001
Thirty five pilgrims were trampled to death in a stampede during the stoning of the Devil ritual.
>> April 9, 1998
Around 180 pilgrims were trampled to death when panic erupted after several fell off an overpass at al-Jamarat.
>> April 15, 1997
Fires driven by high winds tear through a sprawling, overcrowded tent city at Mina, trapping and killing more than 340 pilgrims and injuring 1,500.
>> July 2 1990
In what is considered as the worst hajj tragedy of modern times, 1,426 pilgrims, many of them Malaysians, Indonesian and Pakistanis, were killed in stampede in overcrowded pedestrian tunnel leading to holy sites in Mecca.