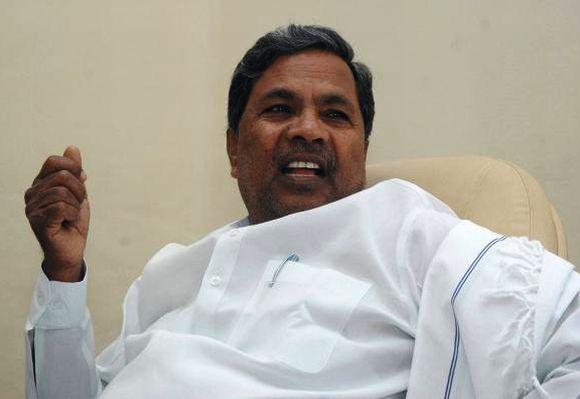 In a state where religious sentiment and superstition is common among politicians, Karnataka's new Chief Minister K Siddaramaiah began his tenure by meeting writers.
Vicky Nanjappa finds out why.
Previous Karnataka chief ministers have chosen to visit religious mutts soon after being appointed to the post.
K Siddaramaiah chose to be different.
Two days before taking the oath of office, he called on some of Karnataka's stellar writers, seeking advice and guidance.
Every one of those writers was present at Monday's swearing-in ceremony -- they had been personally invited by the chief minister.
Siddaramaiah first called on octogenarian Rashtrakavi G S Shivarudrappa at his Banashankari home, inquired about his health and sought his blessings.
Shivarudrappa told Siddaramaiah that he always had the writer's blessings, but Karnataka should be made livable for all.
Siddaramaiah's next destination was the home of Jnanpith Award-winning novelist U R Ananthmurthy, who had described the Congress as the 'lesser evil' (when compared with the state's other political parties) during the election campaign and had appealed to voters to endorse the party.
Siddaramaiah then met playwright and poet Chandrashekhar Kambar, another Jnanpith awardee. After blessing Siddaramaiah, Kambar asked the chief minister to approve the Unicode software support for Kannada.
The files, Kambar complained, were gathering dust for three years and he had not been able to get approval for the same. Siddaramaiah agreed to make this possible.
One remarkable writer Siddaramaiah did not meet was S L Bhyrappa.
Siddaramaiah's supporters were non-committal on why the chief minister did not call on Bhyrappa.
The talk in Bengaluru is that Bhyrappa was left out because of his rightist leanings which may not appeal to the awowed left-of-Centre Siddaramaiah.
The chief minister feels he started off on a correct note by calling on the writers. When other political leaders meet with religious leaders, Siddaramaiah felt he should start off on a different note.
Siddaramaiah has constantly steered clear of religion. He believes he needs the blessings of the people instead of divine solace.
He does not provide his date of birth when people ask about it so that they can study his horoscope. He says he does not know the date since his father, a shepherd, does not remember it.
His school logs show an entry of August 12, 1948. This, the chief minister adds, was only noted down for the school records.