Rahul Gandhi aslos asked the JD-S to clarify whether it was with the BJP and the Sangh Pariwar.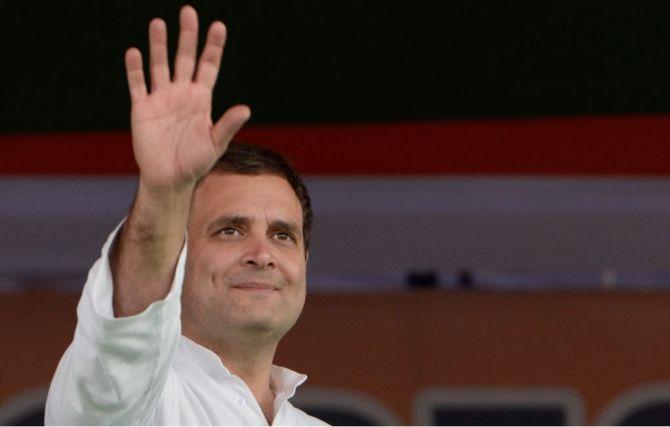 Hitting back at Prime Minister Narendra Modi for his "personal attacks" on him, Congress president Rahul Gandhi on Thursday said that it does not behove a person who holds the high office.
Gandhi also asked the Janata Dal-Secular chief and former prime minister H D Deve Gowda to explain to the masses whether it was with the Bharatiya Janata Party or fighting the Karnataka elections independently.
Addressing a rally in Aurad, Gandhi said Modi was not answering questions raised by him like those on the controversial Rafale fighter jet deal and fugitive diamantaire Nirav Modi, and was instead launching personal attack on him.
"Whenever Modi is afraid....I would tell you about Modi's character....he launches a personal attack on a person. He will talk ill of a person, will talk wrong of a person. That is the difference between me and him," Gandhi said.
Gandhi, however, said whether the attacks on him were right or wrong, he would not make any personal attack on Modi because he was the prime minister.
"I will not attack him personally however much insolent his attacks are. But I will ask questions. I am a soldier of the Congress not an RSS man who spreads hatred.
"He should answer my question how will be ensure that the farmers get minimum support price. How will he tackle unemployment which is highest in eight years? But he will not answer these questions. Since he has nothing to talk about farmers, unemployment, corruption and women's safety, he speaks about me and Mallikarjun Kharge," he said.
Gandhi, who addressed election rallies in Aurad, Bhaki, Humnabad and Bidar, said the BJP cannot win the Karnataka polls. "We will defeat BJP with love," he said.
Gandhi wanted the JD-S to clarify whether it was with the BJP and the Sangh Pariwar.
Modi's surprise praise of JD-S supremo and former prime minister H D Deve Gowda at a rally on Tuesday had caused a flutter in political circles.
Gandhi had earlier dubbed the JDS as the "B team" of the BJP.
Gandhi also slammed Modi over the BJP giving tickets to controversial mining barons Reddy brothers.
"In film Sholay, there was Gabbar Singh. You brought Gabbar Singh Tax (an allusion to GST) but this time you have gone even further. You have fielded the entire gang of Gabbar Singh.
"There is Gabbar, Sambha, Kalia, and all of them.... the Reddy brothers gang, which was in jail....You are trying to get them inducted into assembly, and you tell the country that you are fighting against corruption," he said.
Gandhi said Modi can criticise him as much as he wants, but must answer his questions.
"Are you not trying to induct the Reddy brothers into the assembly? Yes or no. Nirav Modi ran off with Rs 30,000 crore. What have you done on that front? Why was your mouth shut?
"In Rafale (deal), you snatched contract from (public sector) HAL. The Aircraft which was to cost Rs 700 crore, you bought for Rs 1500 crore. You snatched jobs from youths and while doing this you gave the contract to your friend. You don't talk about this too," he said.
Gandhi said the Congress was fighting an ideological war with BJP which believes in "imposing one ideology, one language and one culture".
"The BJP thinks there should be one ideology and one language. What will happen to other states, their language history and culture? BJP is attacking your language, history and Basavanna (a 12th century social reformer worshipped by Lingayats). It is like Mahabharat, a historic war," he said.