Sakshi and Rohit managed to make it out of the Kamala Mills fire and get themselves treated for burns.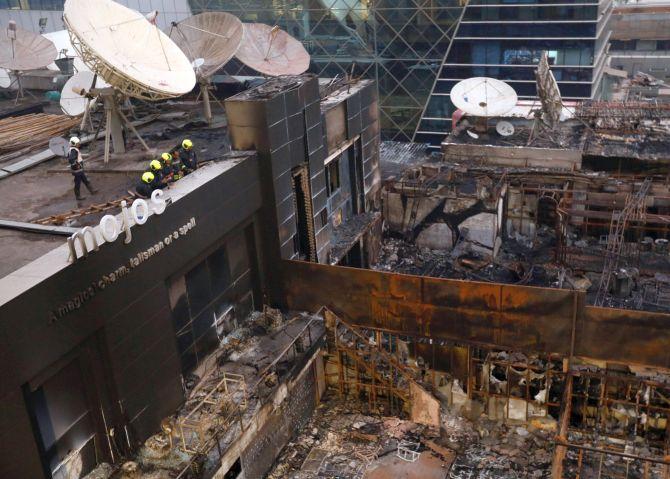 IMAGE: The interiors of a restaurant in Kamala Mills, Mumbai, that was destroyed in the fire on Thursday night. Photograph: Danish Siddiqui/Reuters
When Sakshi Sharma, 23, and Rohit Goyal, 24, stepped out for an evening out with friends at Kamala Mills, a social hotspot in Lower Parel that buzzes with popular, fairly high priced restaurants, the last thing these two Mumbai youngsters expected was that their day would end at a municipal hospital in Sion, also in central Mumbai.
Soon after a blazing fire erupted at 1 Above, a restaurant with a well-equipped bar and a hookah service, that has, as of today, 637 reviews on Zomato, a popular restaurant search service, Sakshi and Rohit were rushed by their friends to Lokamanya Tilak Municipal General Hospital at Sion.
After checking in to the casualty department, Rohit was treated by Dr Siddesh Patkal and Dr S Naveen, in their second and third year in surgical studies respectively.
"The patient had burn injuries on the right side of his face and scalp, across his upper back and the upper half of his right arm. The middle and ring finger of his right hand were fractured," says Dr Patkal.
"An intravenous line was injected into Rohit's left hand and he was treated with injectibles and IV fluids. Primary dressing was done on his wounds," says Dr Naveen.
IMAGE: Rohit Goyal was treated by Dr Siddesh Patkal and Dr S Naveen. Photograph: Hitesh Harisinghani/Rediff.com
An x-ray revealed the fractures in two fingers of his right hand and he was sent to the "ortho casualty. A splint was put on his fingers and his hand was supported with a sling," says Dr Naveen.
He was also treated for smoke inhalation. "The patient was given nebulisation with oxygen. His saturation was 96 per cent when he came to the casualty department."
Rohit was accompanied by 3-4 or his friends, says Dr Patkal. "He told me he helped save one of his friends. He broke the glass on the window and jumped out. He said he hurt his hand when he landed on all fours," adds the doctor.
The doctors advised him to be admitted for further treatment, but they say Rohit Goyal insisted on a discharge as he wanted to continue his treatment at a private hospital.
"He signed the DAMA (discharge against medical advice) form and left," says Dr Naveen.
"Rohit Goyal suffered 18 per cent burns while Sakshi Sharma suffered 10 per cent burns," says Assistant Dean Shobha S Tawde.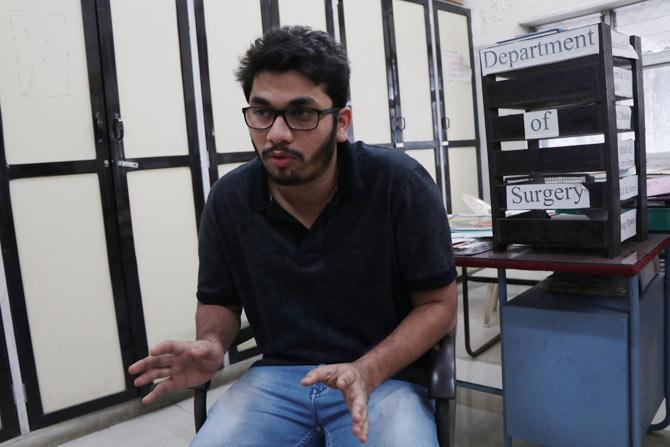 IMAGE: Sakshi Sharma was treated by Dr Akash Shinde. Photograph: Hitesh Harisinghani/Rediff.com
Sakshi Sharma was treated by Dr Akash Shinde, who in his first year of surgical studies, and Dr Pradeep Naik, who is in his third year and works as registrar, burns.
While male burn patients are treated in a special room in the general ward, there is a special, air-conditioned ward (Ward No 25) for women and children who are burn patients.
"All she said was that she was injured in a fire in Kamala Mills and most of the other patients went to KEM hospital. She told me she was a lawyer but was not willing to say much else," says Dr Shinde.
Sakshi had three small injuries. "There was a 2 cm burn on her left hand, a 1 cm burn on the left side of her abdomen and a 5 cm injury below her right knee. She was accompanied by 5-6 friends," he added.
"We treated her with antibiotics and topical ointment. She wanted to leave immediately and, since she was not seriously injured and was not suffering from smoke inhalation, we discharged her," says Dr Naik.