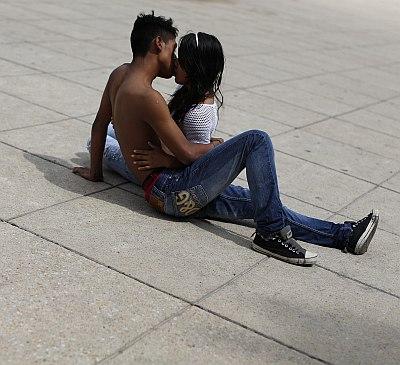 A 'kiss of love' protest organised by a group of youngsters in Kochi on Sunday against vandalism by the Bharatiya Janata Party at a coffee shop in Kozhikode has drawn the ire of the Vishwa Hindu Parishad.
On Wednesday, the VHP tore up posters and placards being prepared for the protest against "moral policing".

A coffee shop in Kozhikode was vandalised last week, allegedly by members of the Bharatiya Janata Yuva Morcha, a youth wing affiliated to the BJP, alleging immoral activities.

Following the incident, a group of youths led by short filmmaker Rahul Pasupalan opened a Facebook page for "kiss of love".
Around 2,600 persons have accepted the invitation to kiss in public "as an expression of love" at Marine Drive at the shore of Kochi. The protest will be held at 5 pm on Sunday.
"Moral policing is a criminal activity. Most political parties and religious organisations try to do that. A group of young bloods join their hands together to prove to the society that kiss is the symbol of love," says a Facebook page put up by the organisers, which has over 14,000 likes.

Image: Representation picture