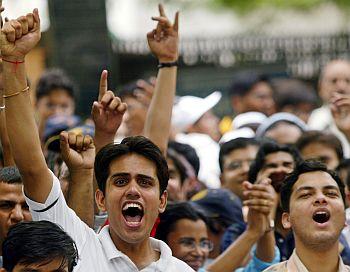 Young India is patriotic but being "stylish" is a growing priority, too. "Chocolate" remains the first craving of Indians and "MTV" Youngistan's most loved space. And the stock market is growing in appeal for young traders, while football catches up with cricket.
These are some of the top findings of Google India as it announced its first-ever Orkut Zeitgeist in India for communities. Zeitgeist means the "spirit of the times".
"Whatever your passion, there's probably a community around it on Orkut. A community is the ultimate hangout for those on Orkut with a specific interest. People meet, discuss, share and learn from others on these communities. And these communities are what we looked at to compile the Orkut Zeitgeist," said Rahul Kulkarni, product manager, Google India.
Social networking sites, being the single largest generators of Indian web traffic, are the best place to check out what India's youth are up to online. People are using Orkut like never before: to forge bonds, to express themselves, to come together around causes and topics that excite them or simply to share their creative pursuits with a wider audience, explained Kulkarni.
Google looked at millions of communities and usage trends to finally arrive at the 10 most popular communities. The trends are based on an anonymous and aggregated study of the behaviour of Indian users over the past seven days. The analysis was repeated over several seven-day periods, to confirm the accuracy of results and to rule out episodic variations. "We scoured through lists on a national level and then dug deeper into city trends. The results are fascinating," said Kulkarni.
For instance, while Bollywood seems to be losing to Tollywood, discrimination is increasingly a thing of the past between men and women, as both groups actively engage in discussions. Everyone loves to "chat" but "photo" sharing and comments are the new fad.
At a city level, the love for the land rules, with the exception of Bangalore, which has emerged as the new "True blue" metropolis in India. Delhi tops the list as the style capital.
Orkut ranks number one when it comes to social networking sites in India with over 17 million (Source: ComScore) active users that comprise 48 per cent of India's online population. While different people find different things to do on the web, the list of the top Orkut communities (based on popularity) is the best representation of the unique ways in which Indian users are mining the Internet and social networks, reasoned Kulkarni.

Photograph: Adnan Abidi/Reuters