Ahead of the 2022 assembly elections, Churchill Alemao 'merged' the NCP with the TMC.
The 'merger' took place when Mamata Banerjee was in Mumbai talking to NCP supreme leader Sharad Pawar on how to forge Opposition unity!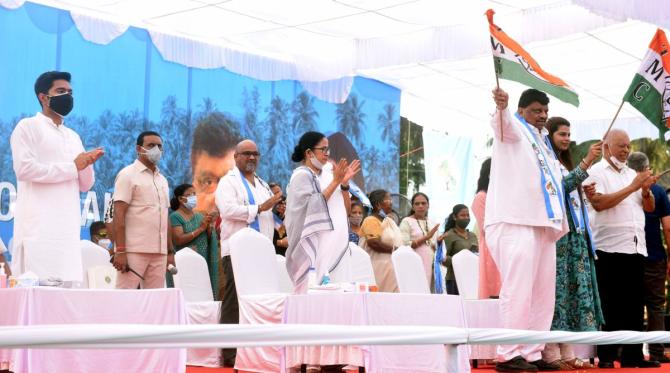 He has been a chief minister, a member of Parliament, a minister in the state cabinet, an MLA, a Congress leader, a member of the Nationalist Congress Party, and the patron of one of the country's moderately successful football clubs.
He also has interests in real estate, hospitality, and the fishing trawler industry.
Churchill Alemao, MLA in the Goa assembly, who recently jumped ship from the NCP to the Trinamool Congress, is a colourful character, to say the least.
Ask Alemao about his life and he will tell you that he started out as a casual labourer for a daily wage of just Rs 5.
Later, he became a sailor. He claims that his fortunes changed after he bought a fishing trawler.
To what use the trawler was put is not known, but in 1994, Alemao was arrested briefly on smuggling charges.
His younger brother Alvernaz was allegedly killed by a Customs official who had reportedly apprehended him while he was smuggling gold.
Certainly, his life has been a gritty struggle.
He is the eldest of six from Goa's Varca. His parents were not wanting in ambition: A brother is named Roosevelt and another, Kennedy.
Alemao was first elected an MLA on a Congress ticket in 1989. Three months later, possibly because he was left out of the cabinet, Alemao rebelled and brought down the then Pratapsingh Rane government.
He went on to become Goa's first Catholic chief minister for just 18 days, leading the Progressive Democratic Front government. He was 41.
In 1996, Alemao was elected MP from South Goa on a United Goa Democratic Party ticket.
He returned to the Congress in 1999 and won his assembly seat.
He was defeated in the 2002 state elections, but became a Congress MP in 2004.
In a sting operation conducted then, he was caught on camera purportedly demanding a bribe to take up a project under the MPLAD scheme.
Alemao later left the Congress again and contested the 2007 Goa elections on a Save Goa Front party ticket.
The Congress later inducted him into the state cabinet, and made him PWD minister.
It was during his term as PWD minister that US firm, Louis Berger, got a Rs 1,030 crore (Rs 10.30 billion) water and sewage management project contract.
No one have found anything amiss had the US government not investigated the company for landing contracts in India by bribing public officials.
The bribes paid amounted to $980,000.
They were paid in both Goa and Assam -- the latter during Himanta Biswa Sarma's tenure as PWD minister.
In Assam, the case was closed because the files were 'lost'.
In Goa, Alemao found himself behind bars.
He claimed he had been framed and the real culprit was actually then chief minister Digambar Kamat.
He was out on bail in a month. During his five-year tenure as PWD minister, Alemao's assets rose by 108 per cent, from Rs 5.16 crore to Rs 11.68 crore (Rs 51.6 million to Rs 116.8 million).
In 2014, he sought a Lok Sabha nomination from the Congress for his daughter, which the party refused.
He quit the party and within days, joined the TMC fighting the election on a TMC ticket.
He lost -- the seat was won by the BJP -- and resigned from the TMC.
In 2016, he joined the NCP and contested the assembly election from Benaulim, becoming the only NCP MLA in the Goa Assembly.
Ahead of the 2022 assembly elections, he 'merged' the NCP with the TMC, and became the 'only Trinamool MLA in the assembly' (being the lone NCP MLA, niceties such as the Anti Defection Act don't apply).
A furious NCP is contesting the 'merger' in court.
It is noteworthy that the 'merger' took place even as Mamata Banerjee was in Mumbai talking to NCP supreme leader Sharad Pawar on how to forge Opposition unity.
Sociologists and psephologists will likely analyse in the years to come, what makes Goa politics so unstable and why MLAs change parties so often.
But for Alemao, the challenge is to create a toe-hold for the TMC in Goa, so that his family (half a dozen members of his extended family are in politics) can be accommodated.
Till then he will continue to be a party animal, its life and soul.
Feature Presentation: Aslam Hunani/Rediff.com