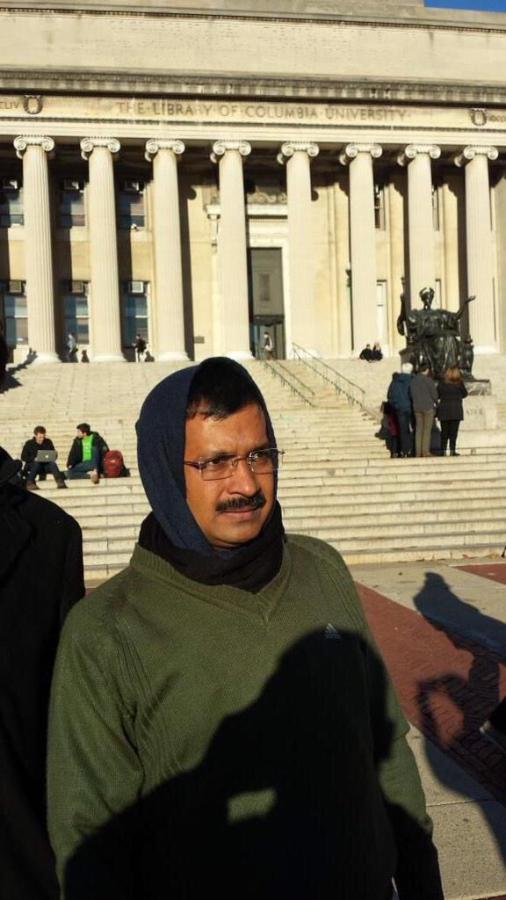 Taking a dig at Prime Minister Narendra Modi, Aam Aadmi Party chief Arvind Kejriwal said that the Madison Square Garden congregation is not a sign of good foreign policy as prime ministers should not go abroad for "entertainment value" but hardcore diplomacy.
Kejriwal addressed about 200 students and faculty at Columbia University at a closed-door event organised by its School of International and Public Affairs during his whirlwind trip to the city on Sunday.
Columbia students who attended the session with the former Delhi chief minister said there was a mixed reaction. Some pinned their hope on him and his party while others voiced their concerns over his resignation from the post of chief minister even after winning the elections.
A report in digital news outlet Quartz quoted 46-year-old Kejriwal criticising Modi over his foreign policy, saying politicians should go abroad for substantive policy.
"Large number of people turning up at MadisonSquareGarden is not foreign policy; it was an event. Our prime minister doesn't go there for entertainment value...Hardcore diplomacy needs to be discussed," the Quartz report quoted Kejriwal as saying.
"In Japan, the nuclear issue wasn't even touched upon. It was the work of the PR company of our prime minister and the PR company of the Japanese prime minister," he said.
Columbia student Casey Tolan tweeted that Kejriwal told students that Modi's Japan visit was not successful and politicians should not go abroad "for rock star evenings" but for substantive policy.
On the issue of black money, Quartz report quoted Kejriwal as saying that assurances by the Modi government to bring back black money turned out to be "a false election promise".
"It was just not doable," he said, "And Modi has not taken even a single step to bring money back."
He added that the government has not made the black money lists public, since "it has names of some who have funded the party," the Quartz report said.
After the Columbia lecture, clinical psychology student Shristhi told PTI that Kejriwal assured the students that he is back and "hopeful" for the upcoming elections and said there is a buzz in Delhi for him to be back in power.
Students said Kejriwal spoke to them about his decision to quit as chief minister and his plans going forward for a corruption-free India.
Samant Kakkar, second year student at the school of International Affairs, said it was refreshing to meet Kejriwal and the "sense we came out with was why are we so impatient as a country that we idolise people so fast and then pull them down".
Richa Maheswhari, also a second year student, said as a politican Kejriwal is not "very diplomatic" about a lot of things he says.
Maheswhari echoed Kakkar's thoughts and said she was impressed with Kejriwal's ideas and what he is trying to do.
Kakkar said Kerjiwal quitting from his post as CM appeared to be more of a "political naivete" and people should be more sympathetic towards him. He however added that the reaction to Kejriwal was mixed as a lot of people still hold cynicism against him.
"It was pretty evident that the crowd was quite divided," he said. Maheswhari added that the crowd was very questioning of why he did certain things and what his plans for the future are.
"We need to rise above that initial cynisism and give him time because we definitely have not given the AAP enough ime to see what they are capable of," he said.
Image: Aam Aadmi Party chief Arvind Kejriwal at the steps of Columbia University in New York. Photograph: @kabirtaneja/Twitter